Canada insists in criticizing the Maduro regime despite diplomats expulsion incident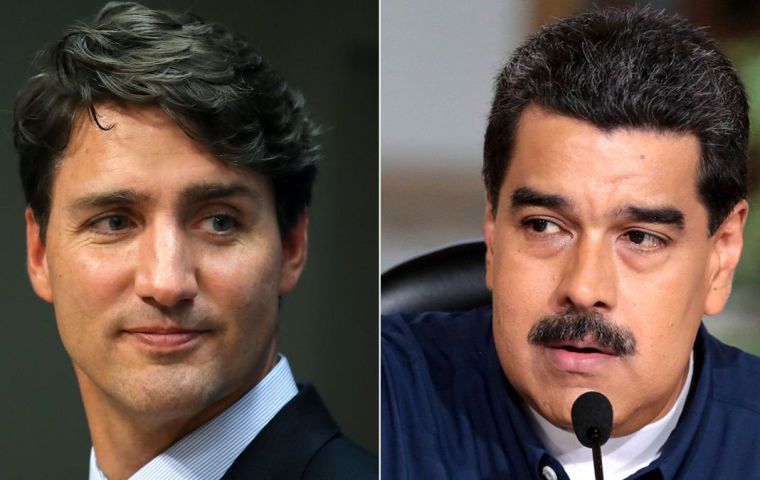 Canada has announced it is expelling Venezuela's ambassador to Ottawa, Wilmer Barrientos Fernández, and its charge d'affaires, Ángel Herrera. Foreign Minister Chrystia Freeland said the move was in retaliation for the expulsion of its most senior diplomat from Caracas over the weekend.
Venezuela had accused Canada of meddling in its internal affairs.
Canada has criticized the government of President Nicolás Maduro over its human rights record. More than 150 people were killed during months of anti-government protests earlier this year.
"Canadians will not stand by as the Government of Venezuela robs its people of their fundamental democratic and human rights, and denies them access to basic humanitarian assistance," said Ms Freeland in a statement.
"We will continue to work with our partners in the region to apply pressure on the anti-democratic Maduro regime and restore the rights of the Venezuelan people."
Ms Freeland said Mr Barrientos was already abroad and would not be allowed to return, while Mr Herrera had been asked to leave.
Canada had already imposed sanctions on senior Venezuelan officials in a move which angered the Venezuelan government.
The head of Venezuela's powerful Constituent Assembly, Delcy Rodríguez, announced on Saturday it was declaring Canada's charge d'affaires to Caracas, Craig Kowalik, persona non grata. Ms Rodríguez accused Mr Kowalik of "permanent and insistent, rude and vulgar interference in the internal affairs of Venezuela".
The US imposed sanctions on president Maduro and the Trump administration labeled him a "dictator". The opposition has accused Mr Maduro and his predecessor, the late Hugo Chávez, of destroying the country's economy with their socialist policies.
Venezuela has one of the world's highest inflation rates and for years has suffered from a shortage of basic goods, including medicines.