Federal Judge Griesa who presided over Argentina's dispute with hedge funds, has died
Wednesday, December 27th 2017 - 11:02 UTC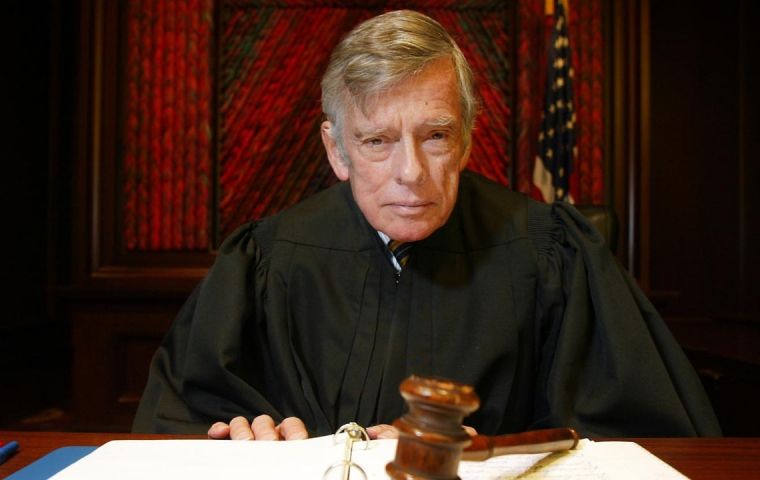 A New York federal judge who drew the ire of Argentine government officials in a long-running case over Argentina's debts has died. Judge Thomas P. Griesa was 87, and spent 45 years on the federal bench.
Manhattan federal court official Edward Friedland says Griesa died on Sunday. The cause of the judge's death hasn't been disclosed.
Griesa presided for 15 years over lawsuits brought by U.S. hedge funds that bought heavily discounted Argentine bonds after the country defaulted on debts in 2001.
The hedge funds demanded full repayment of billions of dollars in bonds. Argentina called the hedge funds "vultures." Griesa said the bonds must be paid in full.
In 2014, Argentina's then-president Cristina Fernandez called Griesa "senile" and his finding "silliness."
After Cristina Fernandez left office, the court case was settled. Bondholders were paid more than US$8 billion.
President Richard Nixon tapped Griesa as a judge in 1972. By then, the lawyer born in Kansas City had spent more than 10 years in private practice following an early career that included two years in the Coast Guard.
Griesa repeatedly made international headlines as he refereed the high-stakes fight between Argentina and the creditors on the South American country's crushing debt.
Griesa also made history in 1978 by holding the U.S. Attorney General Griffin Bell in contempt for not turning over secret FBI informant files. It was the first time the nation's attorney general was cited for contempt, the Washington Post reported.
As for domestic matters, Griesa decided in 2014 that New York City was within its rights to ban cigarette coupons.
Griesa was the Manhattan Federal Court's Chief Judge from 1993 to 2000.
Colleen McMahon, the court's current chief judge, said Griesa "gave our court seven years of wise leadership, and he gave his country 45 years of devoted service. He was particularly proud that he and the other judges with whom he has served have been assiduously non-political.