Russian Deputy Prime Minister steps down as president of the country's Football Association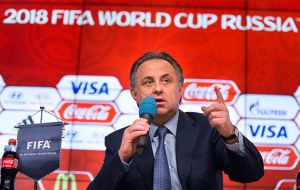 Russian Deputy Prime Minister Vitaly Mutko stepped down from his role as President of the Russian Football Union. Mutko told reporters in Russia he was stepping down to dispute his Olympic ban at the Court of Arbitration for Sport.
The IOC included a lifetime ban for Mutko for his role as Sports Minister during the manipulation of the doping lab at the Sochi Olympics. Mutko also served as head of organizing the 2018 FIFA World Cup, but indicated he may step down.
The IOC ban did not specifically implicate Mutko in the scheme in Sochi, but banned him for failing to follow anti-doping rules. Mutko has continued to deny to existence of any state sponsored doping system.
"So that our organizations are not disturbed during the legal investigation," Mutko said to journalists after a meeting of the RFU. "I have asked to suspend my duties for up to six months.
"Regarding the issues of relationship with FIFA and the organizing committee, as long as [Vladimir Putin] trusts me, I continue to work as deputy premier and oversee the preparations for the world championships."
Mutko served on the FIFA council until March after he was barred upon his appointment as deputy prime minister. FIFA ruled that his government post created a breach of the organization's autonomy rules.
In a statement FIFA welcomed the move by Mutko calling it a "responsible step" ahead of the tournament's last months of preparations.
"Mr. Mutko's decision will have no impact on the successful staging of the FIFA World Cup next summer, as FIFA, the Russian Government, RFU and the LOC (Local Organizing Committee) continue their fruitful cooperation on the preparations for the FIFA World Cup according to plan," FIFA said in its statement. "In the coming days, FIFA will discuss with all relevant parties and agree on the next steps related to the LOC."
RFU director Alexander Alayev will assume Mutko's role as president until CAS takes a position. Mutko however said that Alayev would not be a permanent solution. "I'm not resigning, my mandate is still active," Mutko said.