Brasilia/Caracas tit for tat: Venezuelan top diplomat declared "persona non grata"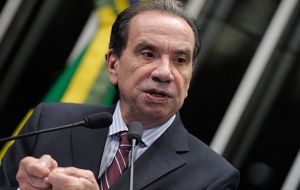 Brazil has declared Gerardo Maldonado, Venezuela's top diplomat in the country, persona non grata in a tit-for-tat move that comes just days after Caracas expelled the Brazilian ambassador.
Relations have worsened between the Mercosur members since 2016 when Venezuela voiced criticism of the impeachment of populist former President Dilma Rousseff, who was removed from office over financial misconduct allegations.
A Brazilian foreign ministry official said that Maldonado would have to leave the country and that the decision was a "swift measure". On Saturday, Venezuela expelled Brazil's chief diplomat Ruy Pereira, prompting an angry response from the Brazilians.
"Such decision would once again demonstrate the authoritarian nature of the Nicolas Maduro administration and its lack of willingness for any type of dialogue," Brazil's foreign ministry said in a statement before "confirming the corresponding reciprocity measures," it added.
When someone is declared a persona non grata, they normally have 72 hours to leave the country. The ministry, however, did not stipulate a deadline for Mr. Maldonado to leave. The reason for this is that Mr. Maldonado's counterpart, ambassador Pereira, was informed of Venezuela's decision "via the media" and still has not been officially notified. The Brazilian ministry decided to follow suit and not stipulate a deadline.
Ambassador Pereira arrived in Brazil a week ago for the holiday season and will not be allowed back into Venezuela as long as the decision still stands.
Mr. Maldonado has been in charge of the Venezuelan embassy in Brasília ever since then-ambassador, Alberto Efraim Castellar Padilla, was summoned back to Venezuela in May of 2016 as a form of protesting against the impeachment of former president Dilma Rousseff.
The move by Brazil comes a day after Canada said it would expel a top Venezuelan diplomat and bar the South American country's ambassador from returning to Ottawa.
The announcement by Canadian Minister of Foreign Affairs Chrystia Freeland came two days after Venezuela expelled Canada's top diplomat in Caracas for allegedly interfering in its domestic affairs. Earlier this year, following in the US footsteps, Canada had unveiled sanctions against 52 foreigners it deemed corrupt and accused of human rights violations.
Among those sanctioned were Russian, South Sudanese and Venezuelan officials, including President Maduro. In August, US President Donald Trump's government imposed sweeping financial sanctions on Venezuela, and labeled President Maduro "a dictator".