Corruption in Uruguayan government "very much extended", says opinion poll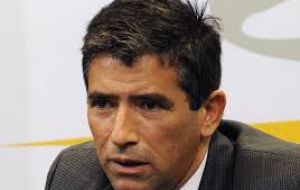 Although Uruguay is well positioned internationally when it comes to corruption perception, it is considered among the least corrupt together with Chile in Latin America by Transparency International and LatinoBarometer, a public opinion poll published the last week of 2017 in Montevideo seems to show quite a different perception, particularly among young people.
The results from the latest Public Opinion Monitor release, based on two simple questions referred to corruption perception in political parties and government, pointed out that almost two thirds of interviewees replied that corruption was "quite" and "very much extended" both in parties and government, 66% and 61%.
The question asked if, "would you say corruption is at all, little, quite or very much extended in government? And the reply was 61% "quite or very much extended", while 38% said it was "little or at all extended".
The 61% is made up of 66% of young voters, below 35, and when it comes to political affiliation, 80% of the main opposition party believe the government is very much corrupt.
As to those who replied corruption is little nor much extended, 50% are above 50 years old and in political affiliation, 59% admit having voted the ruling coalition.
When the same question is referred to political parties, 66% believe they are "quite and very much corrupt", while 32% don't see it that way, little or no corruption.
The breakup of the negative opinion shows 73% are young voters, while those who feel the situation is not bad, includes 44% of fifties and older, and 43% of people who admitted voting the ruling coalition.
The Public Opinion Monitor regularly makes releases relative to politics, and political ethics, to help understand the social context and reactions to government decisions.
The information for this latest release was collected from 630 phone interviews between September 29 and 11 October, appealing to a special cellular phone methodology.
However it must be pointed out that the opinion poll is exclusive to the political environment and thus it does not give an idea how it compares with other sectors of an organized state such as businesspeople, university and education teachers, church, military, NGO, etc.
Likewise 2017 has been a rough year for the political system, for the first time in Uruguayan history a Vice-president stepped down on very strong corruption perceptions, proven false statements referred to his academic background, and, in his previous responsibility, a notorious incompetent management of the country's fuels refining and distribution company which is a government owned monopoly, working with administrative prices, and on occasions with the purpose of helping national Treasury revenue.
The fact is that former vice-president Raul Sendic, son of the founder of the urban Tupamaros guerrilla movement, after much pressure accepted to step down, (and was replaced by Lucia Topolansky, wife of ex president Jose Mujica), while the government fuels monopoly had to be capitalized in hundreds of millions of dollars, and still remains an insolvent company under normal accountancy practice.
President Tabare Vazquez in an apparent defense of Sendic said he had never seen a political figure so hounded, but also admitted if accusations were true he should resign.
To this must be added the not so long ago experience of shutting down Uruguay's flag air carrier, Pluna, which ended with board members jailed, a Finance minister, the head of the largest bank and several notaries indicted, and massive losses for the government.
Another scandal is only beginning to be uncovered and refers to Uruguay's national health system, with countless cases of over costs, cronyism and medical staff providing services through outsourced companies which they owned. However this will be a hard nut to crack for Justice since experience indicates that physicians tend to react as a tight corporation.
The opposition has not been absent of crimes: members have been involved in money laundering, drunk driving and a mayor supplying the local government with fuel from his own gasoline stations.
And there is also the Odebrecht case which has caused tremors in the whole of South American countries, but not in Uruguay, so far, and the head of the Brazilian construction giant has confessed that some government officials in Uruguay were also in their payroll, as usual to help win certain public works contracts.