Busiest air route in North America is Mexico City/Cancun with 3.7m pax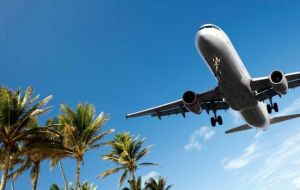 A new study shows that Mexico City to Cancun is the busiest air route in North America. Almost 3.7 million passengers traveled the 1,294 km journey between Mexico City Juarez and Cancun in the twelve-month period between November 1, 2016 and October 31, 2017, putting it at the top of the study's rankings. The average cost of a ticket was US$72.
Los Angeles International to New York J F Kennedy ranked second with 2.8 million people flying between the east and west coast cities. Routes' research showed that the route is the longest in the top ten at 3,982 km and also the most expensive – a one-way ticket has an average cost of US$338.
The third-busiest route links Mexico City Juarez with Monterrey International Airport, the third largest city in Mexico and the capital of the state of Nuevo León. Completing the top five busiest passenger routes in North America is New York LaGuardia to Chicago O'Hare International, which attracted 2.36 million passengers during the year, and San Francisco to Los Angeles International, with 2.2 million.
The top ten routes:
1. Mexico City Juarez – Cancun
2. Los Angeles International – New York J F Kennedy International
3. Mexico City Juarez – Monterrey Mariano Escobedo International
4. New York LaGuardia – Chicago O'Hare International
5. San Francisco – Los Angeles International
6. Guadalajara – Mexico City Juarez
7. Los Angeles International – Seattle-Tacoma International
8. San Francisco – New York J F Kennedy International
9. New York LaGuardia – Atlanta Hartsfield-Jackson
10. Orlando International – Newark Liberty International