Hyperinflation that degrades any salary increase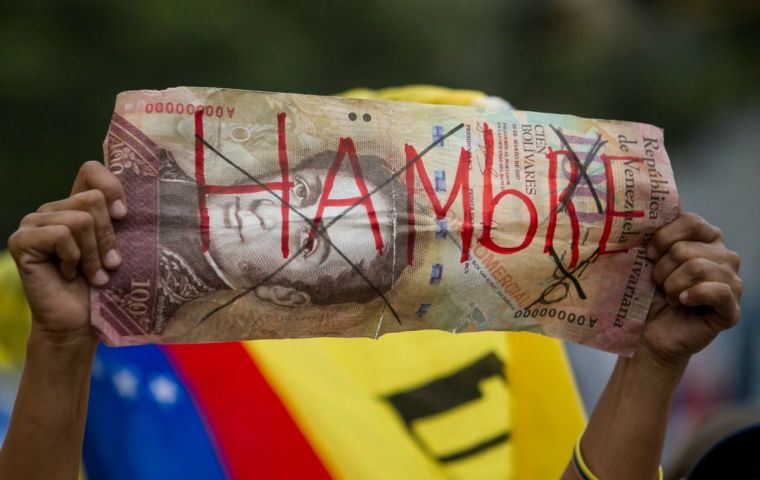 A new salary increase arrived to Venezuela -the seventh in a year-, but the purchasing power of Venezuelans continues insignificant compared to the high price of low supply due to hyperinflation. While it is not possible to slow down the variation of prices in the different products of the basic basket, any wage increase is insufficient and exacerbates the problem. In one year, salary increased 511%, while inflation in 2017 closed at 2.735%, the highest in the world.
Inflation, that economic process caused by the imbalance between production and demand and which has the effect of raising prices, has been an effect marked by the loss of purchasing power of people, as well as the devaluation of the currency
Such phenomenon happens in Venezuela, where the bolivar, the national currency, lost 3.083% of value against the dollar of the black market in a single year, (the official market for its purchase were suspended). In January 2017, the US currency was quoted on the Dolar Today page - which serves as an unofficial quotation board - at Bs. 3,510, to date it is sold at Bs. 111,413.
According to the economist and director of the financial firm Econométrica, Henkel García, "these increases in minimum income are higher from the nominal point of view, with inability to improve purchasing power, but they do put a higher step in the inflation generated." His colleague Asdrúbal Oliveros, director of Ecoanalítica, predicted that, due to the acceleration of inflation during 2018, the increases would become monthly and expressed that "a policy of unilateral minimum wage increase from the Executive and in the absence of a policy to reduce inflation, what it does is aggravate the problem."
In the last month of the year, there was registered an increase in the price of more than 100% of several foods in the basic basket, some of which exceeded their cost by 1,500% in the course of 2017.