Argentina dismantling the extortive power of the corrupt unions
Monday, January 8th 2018 - 05:53 UTC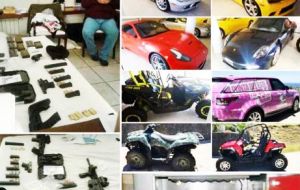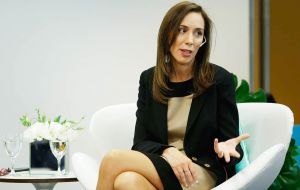 A member of Argentina's elite of powerful union sharks has been arrested in Uruguay at his Great Chaparral ranch and is awaiting extradition to Buenos Aires to face charges of corruption, money laundering, extortion, stealing funds and links with the drugs business, among others.
Marcelo Balcedo, 53, is/was the boss of the province of Buenos Aires government minors and education workers union, SOEME, with at least 35.000 membership, and besides the thug qualities needed for such command, is a chartered engineer, educated in the United States, and owns a leading newspaper and a main radio station in the province, among other influential assets.
Following his arrest last Thursday in Uruguay, his newspaper in La Plata, Hoy, of which he is Editor in Chief, published a black front page with the phrase in with letters that read "Attack on Freedom of Expression". Inside was a biography of the magistrate Ernesto Kreplak, who ordered his arrest, plus the political connections of his family.
But what did the Uruguayan police early morning surprise raid into the 20 hectares heavily guarded ranch on the cusp of a hill in Playa Verde, some 90 kilometers east of Montevideo, and forty from Punta del Este find? To start with cash, and plenty of it, over half a million dollars, some Euros, and some Aruba guilder. Plenty of modern arms, a machine gun, several Glocks and sufficient ammo for a long siege, and in the underground garage, fourteen top model cars, including Ferrari, Porsche, Mercedes Benz, Camaro.
The huge ranch house has a privileged view of the sea a few miles away and surrounding hills, close by is a half size Olympic pool, tennis courts, and other sports fields, plus a collection of live animals including local fauna and Andes llamas.
Balcedo, who apparently was living in Uruguay during the last six years, was rarely seen but much appreciated for he employed some twenty local staff and paid fairly and on time. Security was tight and 24 hours, and night lit as daytime. His wife, 33, Paola Fiege, and mother of their three children is considered a good neighbor and mingled with the locals. Their children were driven daily to a bilingual international school in Punta del Este, some forty kilometers away. Balcedo had the road leading to the ranch from the highway surfaced.
The couple and children were driven to Montevideo where they now remain in custody under 30 days preventive arrest to give time for the extradition paperwork.
But that was not the only surprise. The police raid later found keys of several bank coffers which hold approximately seven million dollars with a detail of the funds, and apparently coincide with some of the sums that were taken from the SOEME union treasury by Balcedo personally. Besides, a US licensed aircraft, had been loading fuel in Carrasco airport at Montevideo since the family was planning to travel to Aruba, allegedly on holidays. It is not clear to whom the jet belongs.
Balcedo actually inherited the command of the SOEME union from his father, who was a tough thug in the Argentine unions jungle but sent his son to engineering school and later to complete studies in the US. Once in charge Balcedo Jr, with his media, negotiated with the different governments certain privileges, including making it compulsory for all workers in the minority and education branches to become members of the union.
He was politically close to the Argentine umbrella unions organization leader Hugo Moyano, and clashed with ex president Cristina Fernandez, although had excellent relations with the Kirchnerite ex governor of Buenos Aires province, Daniel Scioli who handsomely helped finance his media outlets with government publicity.
His union, as well as other dissident groups, was cooperative with the current administration of president Mauricio Macri, but his past record of snatching union funds, a case that had been boxed away in recent years by some obscure magistrate allegedly again emerged, as the Argentine judicial branch seems to awake from a long siesta.
Likewise most of the cars found at this Chaparral ranch are under different names and apparently there is a strong connection through one of Balceda's closest secretaries, who surrendered in La Plata, with a notorious narcotics gang in Rosario which goes under the name of Los Monos.
Balcedo becomes the fifth major union leader to be arrested or under investigation in Argentina since the current governor of Buenos Aires province, Maria Eugenia Vidal took office.
The others include the head of the maritime union, SOMU, Omar Suarez arrested for extortion and fraud; Pablo Moyano head of the teamsters and son of the CGT unions umbrella organization leader, Hugo Moyano, has been involved in soccer racketeering with 23 more indicted; Victor Santa Maria, head of the janitors union, is investigated for money laundering 4 million US dollars and funneling money to family Swiss bank accounts. This union among other assets has the newspaper Pagina 12 and radio AM750; Juan Manuel Medina, head of Buenos Aires province construction union has been accused of racketeering, money laundering, extortion and also resisted arrest during eight hours in the UOCRA headquarters. His organization owned 100 cars, a yacht, an aircraft, a helicopter and some ten million dollars in real estate. When his mansion was raided, guns, ammo, money counting machines were found, and later several barrels with cash buried in the garden.
Governor Vidal was asked in a television program about the arrest of Balcedo in Uruguay and replied that "the Balcedo and Suarez, and so many maffiosi, are now in jail but before were protected..." This is only the tip of the iceberg...