Brazilian stocks edge higher convinced Lula will be barred from running in election
Tuesday, January 9th 2018 - 10:01 UTC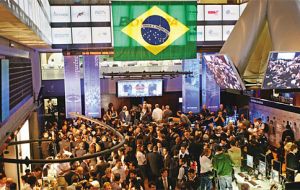 Brazilian stocks edged higher to mark a record close on Monday, underpinned by optimism over the nation's fiscal outlook as well as a strong flow of international investment. The benchmark Bovespa stock index continued its climb following a seven-day string of gains.
The rally in Brazilian stocks has been supported by investor betting on a market-friendly winner in this year's presidential elections, who would advance President Michel Temer's austerity platform.
Former President Lula da Silva, who has railed against Temer's policies, is leading opinion polls, but he could be barred from running if a conviction for corruption is upheld by a higher court on Jan. 24.
Signs that an economic recovery is picking up steam have also supported demand for Brazilian stocks, which should see earnings growth as Latin America's largest economy regain a solid footing.
"Inflows from foreign investors remain substantial and the pipeline looks strong," analysts at the Magliano brokerage wrote in a report.
However traders in emerging markets have been closely following U.S. economic indicators and remarks by policymakers for hints over the pace of interest rate hikes in the United States, particularly after a mixed jobs report last week. Higher U.S. rates could dampen demand for emerging markets, which offer higher yields.