Record sales in 2017 for Jaguar and Land Rover; China and US leading markets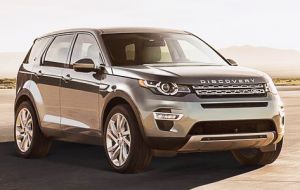 The UK's biggest carmaker, Jaguar Land Rover (JLR), has said sales hit a record high last year. The company reported Jaguar sold 178,601 cars, up 20% on the year before, while Land Rover sales rose 2% to 442,508. JLR said sales had more than tripled since 2009.
This was the seventh successive year of growth, which was driven by the introduction of new models and increased uptake of its clean diesel and petrol engines.
Jaguar saw strong demand for the Jaguar F-Pace, XE and XF models, while Land Rover's best-seller for the year was the Discovery Sport, which sold 126,078 vehicles.
The company said that growing sales in China and the US helped to offset what it described as "difficult market conditions" in the European and UK markets.
China was the company's most important region in 2017 with annual sales of 146,399, up 23% year-on-year. It described its performance in the UK as "solid", with 117,748 Jaguars and Land Rovers sold.
JLR sales operations director Andy Goss said: "We have once again delivered year-on-year sales increases. But we are facing tough times in key markets such as the UK where consumer confidence and diesel taxes will hit us."