UK Cabinet reshuffle makes government look "more like the country it serves"
Wednesday, January 10th 2018 - 10:28 UTC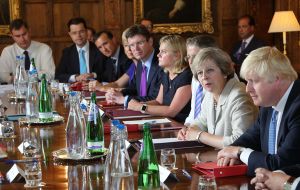 Theresa May has said her reshuffle makes the government look "more like the country it serves" with a "new generation" of ministers brought in. The PM has appointed several new faces to her ministerial team.
The mostly junior ministerial appointments come after Monday's cabinet-level changes. These triggered the resignation of education secretary Justine Greening and were branded a "lacklustre PR exercise" by Labour.
Of Tuesday's appointments, six men and eight women were new additions to government, including five from ethnic minorities and 11 who were elected in 2015.
Six of the women - all elected in 2015 - have been appointed as junior whips, who will be involved with enforcing party discipline.
Downing Street said that following the reshuffle there were more women attending cabinet, more female ministers and more members of the government from ethnic minorities. The number of women who are full cabinet members has remained the same as before at six.
But the number of other senior female ministers also attending cabinet has risen from two to four, taking the total number of women around the table to 10.
Mrs May said it would allow "a new generation of gifted ministers to step up and make life better for people across the whole UK".
The latest changes include Jo Johnson being moved from his universities role to transport, and Suella Fernandes becoming a minister in the Department for Exiting the EU.
Mr Johnson had been in the firing line over the appointment of columnist Toby Young to the board of the government's universities regulator. The brother of former London mayor Boris Johnson, he will also be the minister for London in his new role.