Falklands radio station with new old faces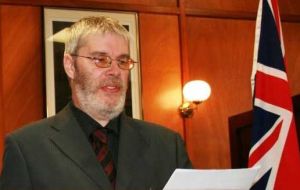 Falklands Radio has new staff members from this week. Corina Goss has returned as Station Manager, while Gavin Short has joined the team as Senior News Correspondent.
Corina was also the station manager from 2005 to 2016, having joined the station in 1993, aged just 16, as a continuity announcer.
She told Penguin News she left to spend more time with her family and investigate other potential opportunities, including standing as a candidate in the 2017 general election.
She said: "Although I was unsuccessful, I thoroughly enjoyed the experience and feel that it has given me a renewed sense of energy and focus. I'm very much looking forward to expanding the team and increasing the quality and quantity of the output. In the early stages I will be focusing on building a full-time team, reviewing current output and identifying areas for improvement."
What sort of areas does she intend to work on to improve the service?
"I believe that important factors include increasing staff numbers, developing a training programme, introducing a greater variety of shows, both music and talk, and increasing the station's presence in the community. Expect to see us out and about a lot more in the coming months."
Corina returns to the manager's role following the departure of Christine Ramoutar, and she is keen to hear any feedback about the station. "Please do call 27280 or email me at stationmanager@ radio.co.fk."
Gavin Short has joined the radio newsroom after eight years as an MLA, having narrowly lost his seat on the assembly in last November's general election.
What made him decide to move into the media?
"As I have said on a number of occasions my life has seemingly consisted of a whole string of random stuff in general, most of it quite fun and groovy. I was approached by the radio station to try my hand at news gathering and I have to admit that I took some
convincing. It was my son who finally talked me into it. Having made the leap, I have to say that it has been great fun so far, as I like nothing better than a good chat with people. If anyone has any suggestions about whom I should be talking to, or news of any happenings around the Falklands, please give me a message or call.
We want to make this radio station, your radio station."
"As I have said on a number of occasions my life has seemingly consisted of a whole string of random stuff in general, most of it quite fun and groovy. I was approached by the radio station to try my hand at news gathering and I have to admit that I took some
convincing. It was my son who finally talked me into it. Having made the leap, I have to say that it has been great fun so far, as I like nothing better than a good chat with people. If anyone has any suggestions about whom I should be talking to, or news of any happenings around the Falklands, please give me a message or call.
We want to make this radio station, your radio station." (Penguin News)