Argentine union leaders warn Macri, and forecast he may not end his mandate
Saturday, January 13th 2018 - 07:58 UTC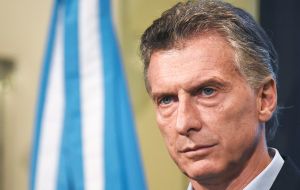 The Argentine government approach to the power challenge from strong unions has managed so far to have several of its leaders indicted for money laundering, fraud, racketeering and widespread corruption, including one who is jailed in neighboring Uruguay and which the Argentine justice expects to extradite.
Raids in unions' offices and leaders' residences have uncovered millions of dollars, jewels, weapons, drugs, secret bank accounts, coffers and even money buried in gardens, plus expensive foreign cars, yachts and jets, which defendants will have to explain how they built such fortunes.
This has led several top officials from the administration of president Mauricio Macri to talk about the "unions' mafia organization", their extended corruption practices and bullying tactics.
But not all union leaders agree and have warned that "we are not all the same or in the same bag, and it is not right to generalize the term mafia to the whole unions' organization"
One of them is Luis Barrionuevo, head of the gastronomy workers union, and a very political character since in the last twenty years he has reached reasonable agreements on salaries and working conditions with the different governments, including the current Macri administration, and he is not happy.
"I recall that the unions were attacked by the military, by ex presidents (Ricardo) Alfonsin and (Fernando) de la Rúa, and we know how they all ended, not precisely in success", said Barrionuevo.
He added that the current policies of the Macri administration are far from "the reconciliation spirit", which is so much needed. "The government is out of course, it is privileging the financial casino, foreign investments have yet to arrive, and I think it is time they take charge and stop attacking us".
Barrionuevo also anticipated he would not support the 15% cap when the next salary negotiations' round, and "although there is still time to sit and talk, the outcome is quite distant". He insisted he backed Congress discussing changes to any changes in organized labor legislation.
Likewise Luis D'Elía a notorious Kirchnerite street militant currently in jail on corruption charges and links with the Iran plot, has warned that president Macri "will be stepping down before his term is up".
"Asking for his resignation is not seditious, I don't want it to happen, but Macri will not finish his mandate", insisted D'Elía from Marcos Paz where he is under arrest.
D'Elía who was famous for organizing violent marches in support of ex president Cristina Fernandez, and for his trips to Teheran, admitted Macri won fair and straight the midterm elections of last October, but social unrest since was clearly expressed during December, with massive protests and extensive pot banging from many of Macri's voters in Buenos Aires.
Likewise he considered himself a "political prisoner" since he has been in preventive arrest and "not for having committed corruption crimes but because of a brutal arbitrary political decision".
"In Argentina jails are for the poor, because the rich criminals, those who have fled the country, who devalue the currency or indebt us all, are not in jail", concluded D'Elía.