The "ship of the millionaires" comes to Punta del Este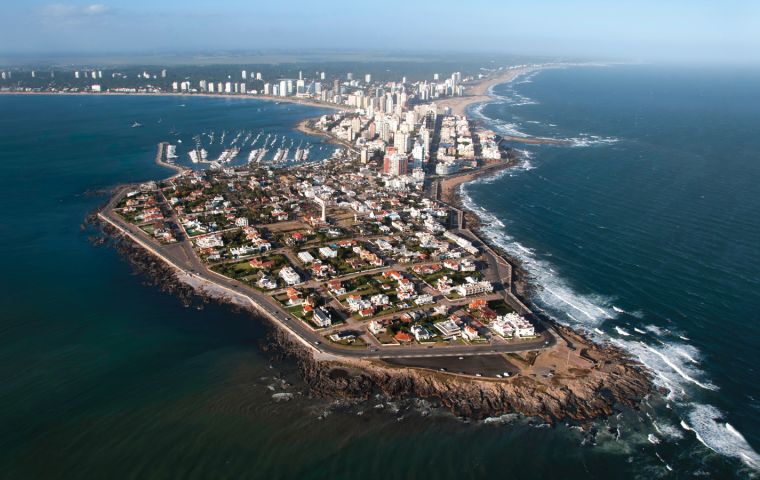 Imagine having breakfast with an explorer and documentalist who turns out to be Jacques Cousteau's granddaughter. Or listen to a conference aboard the Nobel Prize in Physics Shuji Nakamura. Imagine waking up one day on an exotic island and the other in one of the great capitals of the world. Imagine owning a floating apartment worth between 1.2 and 7.5 million dollars.
First of all, you must imagine that you are a multimillionaire. Like the 250 passengers who will arrive to Punta del Este within a month aboard the super luxury cruise The World, which two years ago first visited the city.
"At the end of February there will be for the first time in Punta del Este a cruise ship that stays 4 days and 3 nights, it is a ship that has characteristics similar to those of a building: they are apartments, each with its owner. Meetings of co-owners, every year they decide which destination to go to", Carlos Ferreira, who is in charge of the port of Punta del Este, told El Pais.
This occurs at a time when the maritime terminal is experiencing a rebound in this type of operation, after a really bad season. "In 2013, Punta del Este had 115 cruise lines and last year it touched a 52-storey floor. This year it started to rebound," the port spokesman said.
"The phenomenon was due to the financial situation of the Southern Cone, the emergence of more competitive markets in the rest of the world, such as Cuba, China and Asia, where cruise costs are lower than ours," he explained. Ferreira
"In addition, Punta del Este was affected by a decision that was good for the country: that the Costa Cruises company started boarding and disembarking passengers in Uruguay, but that can only be done with the ship on the dock, so It only operates in Montevideo, which is how it got almost 20 stops it had in Punta del Este", he added.
The cruise season in Punta del Este began on October 29 and will run until April 28. There are 70 scheduled stops, 23 of which have already been completed; only one was canceled due to bad weather.
Each cruise must pay the port US $ 6 per passenger, based on an affidavit, although not all of them land. If the stopover is suspended due to bad weather and does not operate, the port remains uncollected. On average, these large ships bring about 2,900 travelers.
The ship has 165 apartments occupied by about 250 residents of 40 countries. And the crew surpasses the owners of the house: it is made up of 260 people. The profile of the passengers is of an average age of 52 years, mainly from the USA. and Europe. There are also from Australia, from Asian and South African countries.
Some live all year on board, although most use it as a holiday destination for three or four months a year. It also transports tenants, who pay from US $ 1,200 per night in the cheapest rooms. Those who are always on board are not exempt from paying taxes, because the rules of the ship force them to also have a residence on land.
The ocean liner continually navigates, stopping at destinations for longer than traditional cruises, allowing passengers to explore the locations in a more relaxed manner.
While cruising, travelers can enjoy the usual amenities on a cruise like this: from six different restaurants to fitness center, billiard room, golf simulator, boutiques, swimming pool, spa and a tennis court, the only one with these characteristics on board a ship. Similarly, there is a supermarket and a cellar, in case travelers prefer to cook in their apartments.
Cinema, library and musical performances complete the leisure offer, along with classes and workshops on topics as varied as diving, dancing, golf, languages, cooking, crafts, digital imaging and music. It is also possible to do photographic safaris among the dolphins and take a kayak and go paddling when the boat is near the coast.
The ship was made in the Norwegian shipyard of Fosen Mekaniske Verksted, in Rissa and finalized in 2002. It has 12 covers and its construction cost 380 million dollars.
At first it was thought that the 165 apartments would not be sold or rented; however, there have not been available for a long time.
ResidenSea Ltd. is the company, based in Miami, that sells, promotes, operates and manages The World.
On February 10 a new company, the Cruise Highness, will start operating in Punta del Este, which will link the ports of Buenos Aires, Mar del Plata, Montevideo and Punta del Este. The firm has the prospect of operating all year.
This trip can be made from US $ 662 per person in an internal cabin up to US $ 1,400 in a Premium Suite. The ship is the ACL Delphin, a small 3 star cruise ship, renovated for the last time in 2012, which was in almost all oceans. His routes have taken him to popular destinations in the seas of the North and the Baltic, in the Azores, Canary Islands and the Caribbean. And its ice-strengthened hull even allows you to ride around Greenland and Antarctica.
Works that opened this season
The port of Punta del Este carried out various works that were inaugurated this season. One of the most visible is a walkway that below has workshops, warehouses, changing rooms and toilets. "It is an area that is not desirable to see, then it was sunken, and we recovered a viewpoint for the people, there was also a security problem and part of the rambla we put a perimeter fence. all new ", explains Carlos Ferreira.
"In the breakwater, we had to rebuild almost 90 meters of infrastructure that had been undermined, and a new pontoon was added for the operation of cruises on pier C. Because when there are differences in tide, the boat that takes passengers is very under the pier and that does not allow them to climb, "he added.
The port today reaches 100% occupancy
Until yesterday the port of Punta del Este had 90% occupancy in its sports moorings and 100% in the port nursery, with a waiting list of almost 60 boats.
"They are similar percentages to the previous year, although it is highlighted that there is no place for those of large size," port spokesman Carlos Ferreira told El Pais.
The arrival of the Rolex Circuito Atlántico Sur regatta is scheduled for today, with 70 vessels coming from the port of Buenos Aires.
This will mean that several vessels have to be removed to release moorings. "And we depend on the weather, because if there is bad weather, the boats have to go the same and the others have to arrive," says Ferreira. Therefore, between today and next week the port will reach 100% occupancy.
The total capacity in Punta del Este is 520 moorings and 300 spaces in nursery with an average length of 8 meters. Among those 520 moorings, 90 ships are borneo, that is, anchored in the buoys away from the docks.
The largest is the Pink Gin sailboat, which is 57 meters long. Its value greatly exceeds US $ 100 million. He arrived on December 11 and will leave today. It is a new ship, built in Finnish shipyards, which was launched last year and arrived from the slipway of the port of Mallorca.
The cost of the mooring takes into account the size of the length (length) of the boat. Punta del Este charges $ 304 per day per meter of length. An average boat of 15 meters pays per day $ 4,566, plus water and electricity.
In Borneo, it costs half: $ 2,281, but there they do not have electricity or drinking water.
Article published by Andrés López in El País (Uruguay).