"Carnival Triumph" fails CDC sanitation inspection, for the first time ever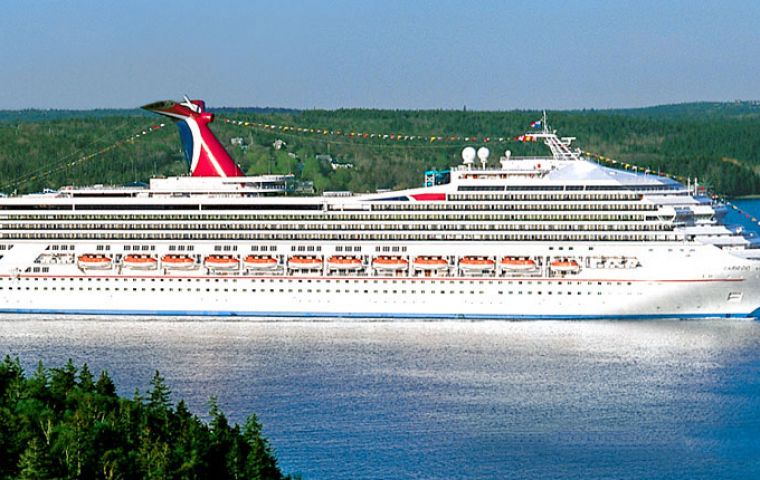 The cruise ship that earned the "poop cruise" moniker in 2013 has failed her sanitation inspection for the first time ever. In a report completed in November and released earlier this week, inspectors with the U.S. Centers for Disease Control (CDC) gave the Carnival Triumph a score of 78 out of 100, well below the required 86-point margin for a passing grade. It is the first time she has ever failed an inspection, according to two decades of CDC records, and the first time since 2009 that her score fell below 90 points.
The deficiencies identified in the latest inspection included poorly maintained or soiled backflow preventers on potable water lines; two bathing pools with water levels below the required level for recirculation cleaning; soiled and clogged dishwasher nozzles; dirty food trolleys, serving trays, storage racks, galley fixtures, drinking fountains and beer taps; and a number of crew knowledge shortfalls on preventing foodborne illness.
The inspection occurred while the ship was taking on stores, and the inspectors found perishable food that was not kept at the correct temperature. In the ship's dairy cooler, inspectors found ambient temperatures and food temperatures over the minimum standard of 41 degrees F, including many items above 50 degrees F.
In a corrective action report, Carnival said that all deficiencies were either immediately corrected or that action was initiated to begin corrections.
In February 2013, during a cruise in the Gulf of Mexico, the Triumph suffered an engine room fire from a leaking flexible fuel line. She lost power and switched to emergency generators, taking her air conditioning and some of her sanitation systems offline. Passengers made makeshift accommodations on her upper decks to escape the heat of the interior, and the crew disbursed "red bags" to accommodate human waste. It took five days for the vessel to be towed back to shore at Mobile, Alabama, where guests disembarked and the ship underwent repairs. The incident became popularly known as the "poop cruise" due to passenger complaints about conditions during the voyage.