Falklands' war hero Rick Jolly, who saved hundreds of lives of British and Argentine solider, has died
Monday, January 15th 2018 - 01:57 UTC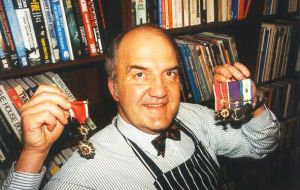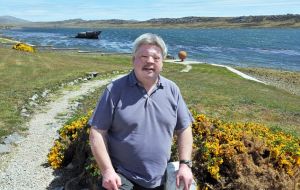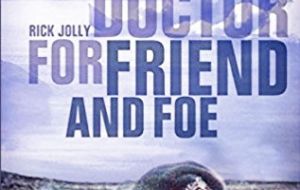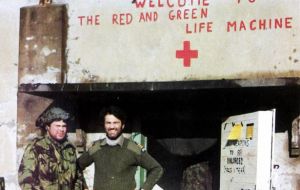 A Royal Navy medical officer who saved the lives of hundreds of British and Argentine troops during the Falklands War has died, aged 71. Working amid terrible conditions in the field, Surgeon Capt Rick Jolly OBE, from Torpoint, Cornwall, saved the life of every British serviceman he treated. He is the only person to have been decorated by both Britain and Argentina for his service during the conflict.
Members of the armed forces community across the world are paying tribute to war hero Rick Jolly and an outpouring of grief and kind words for the former medical officer.
Jolly became a national hero during the Falklands War after setting up a field hospital and treating both British and Argentine wounded. Not one man died under his care and he was uniquely honored for his service by both countries.
The British and Commonwealth Military Facebook page announced Jolly's passing, and wrote in a touching post: "It is with great regret and sadness that we inform you that Surgeon Captain Rick Jolly passed away in his sleep this morning. Sue his wife is obviously devastated. His friends don't know if there will be a private or public farewell to this great man, truly heart breaking"
Falklands veteran Simon Weston called him an "incredible man". He said: "Without his organizational skills the surgeons and medics would never have functioned. I can only thank him for saving my life, and many others. It's a tragedy for everyone who knew him and a tragedy especially for his family."
After the war Capt Jolly wrote books and gave lectures to share his experiences from the conflict. Known as "Doc", he was the senior medical officer of Plymouth-based 3 Commando Brigade and ran the field hospital at Ajax Bay where around 1,000 troops were treated.
Despite the poor conditions, only three of the 580 British soldiers and Royal Marines wounded in action were to die of their wounds, and none while under his care.
The hospital was known as the "red and green life machine" and this became the title of one of his books.
He was appointed an OBE by the Queen, and awarded the Orden de Mayo (Order of May) by Argentina for his service during the war.
"Surgeon Captain Rick Jolly OBE was a doctor, a senior military officer, a royal marine commando, an accomplished author and an excellent after dinner speaker." said chairman of the China Fleet Country Club and former member of the Royal Navy Surgical Support Team David O'Sullivan.
"Above all he was a true gentleman who always put others before himself.
"His inspirational leadership of the field hospital at Ajax Bay during the Falklands war is legendary. There can't be many doctors who have saved lives in such atrocious conditions, the so called hospital was a filthy disused slaughterhouse, but it was the only location available, and while the surgical teams were working on badly wounded casualties from both sides, bombs and bullets were flying around, it was freezing cold, and over their heads lay two unexploded bombs dropped by Argentine aircraft lodged in the roof. Not many operating theatres have such adornments!
"It is at times like this that leaders come to the fore, Rick Jolly was that leader, he gave his team reassurance and support when under constant attack. After a particularly bad day Rick would speak to each and every one of his team and even give them a tot of whisky that he had somehow obtained from one of the ships in "bomb alley".
"It was an honour and a privilege to have served under Rick Jolly, rest in peace sir. They don't make them like that anymore."
Ex-serviceman Andrew Booton tweeted: 'I hear Surg Capt (Retd) Rick Jolly has crossed the bar. A phenomenal officer, author of Jackspeak, brilliant surgeon (commanded the Red and Green Life Machine) and contrary to Naval custom, a gentleman. RIP Sir. It was an honor to know you.'
Dr. Jolly visited Argentina in 1998 and asked the authorities what had become of the Argentine casualties he treated. It was only then that the Argentine Foreign Ministry realized their men had been cared for by British medics. As a result Dr Jolly was appointed as an Oficial (Officer) in the Order of May in recognition of his outstanding work in saving the lives of many wounded Argentine soldiers and airmen.
As the award was classed as a foreign decoration, Jolly needed to write to Her Majesty the Queen for permission to wear it with his other medals. She personally authorized him to wear it "on all occasions" on behalf of the three hundred British Naval, Royal Marines and Army medics involved in the war.