Francis arrives in Chile to a divided church with threats of violence and protests over abuses allegations
Monday, January 15th 2018 - 02:41 UTC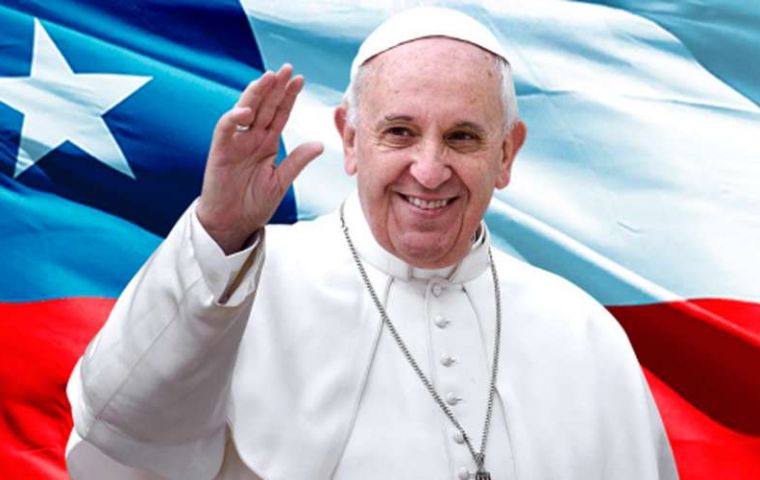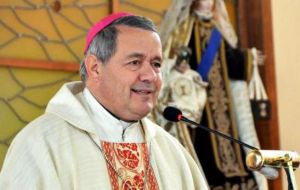 Pope Francis' trip to South America is supposed to be all about peace, unity and hope. But the pontiff could also be welcomed with protests, threats of violence and controversy over allegations of abuses by the Catholic Church. Argentina born Francis comes to his home continent for a two-country, six-city apostolic visit that starts in Chile this Monday and ends in Peru a week later.
According to Vatican officials, some of his themes on the trip will include the environment and the plight of indigenous peoples. In Pope Francis tradition, he will be meeting with his Jesuit brothers and Catholic bishops, but also the poor, the vulnerable, youth groups and indigenous communities.
Already there has been recent violence in Santiago, Chile's capital, where at least five churches were recently attacked -- some with firebombs -- according to the country's Interior sub secretary, Mahmud Aleuy. The vandals left behind a menacing message.
"Pope Francis, the next bombs will be on your cassock," read one of the messages, according to local newspapers. The attacks on the churches started on Friday, leaving some with burned doors and charred and busted windows. No one was hurt, according to local reports.
Aleuy denounced the violence in a press release, saying, "everyone has a right of expression so long as it's peaceful and not violent." One of the churches attacked is near the Apostolic Nunciature, the Vatican embassy where the pontiff will stay while in Chile.
In the wake of the attacks the security plan for the Pope's visit is being re-evaluated and reinforced, Aleuy said. No one has been arrested in connection with the church attacks.
Protests over the Catholic church's clerical sex scandal also are expected. Residents of the southern city of Osorno vehemently object to Francis' decision to appoint Juan Barros in 2015 as bishop of the diocese there and have said they plan to protest his arrival in Santiago. In conservative Chile the controversy over abortion and other same sex initiatives have triggered strong reactions.
Last but not least Francis will overfly Argentina, where many Catholics are awaiting his long overdue visit. The excuse so far has been that the Pope did not want to interfere in local politics and last year's midterm elections, but it is also believed that chemistry with president Mauricio Macri is not the best.
Francis has publicly condemned capitalism, and president Macri's pro market policies, austerity and gradual elimination of subsidies that have overwhelmed Argentina's budget, have had an impact in the province of Buenos Aires, where the pope has a great influence. Catholic bishops have repeatedly denounced growing poverty in the country's richest province.
Besides Francis had managed a fluid relation with former president Cristina Fernandez who visited him several times, supposedly to consult him, but has now been indicted in several cases allegedly involving money laundering, fraud, patronizing and public works contracts manipulation.