Macron lobbying for the French baguette as a UNESCO "intangible heritage"
Monday, January 15th 2018 - 09:09 UTC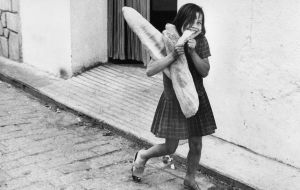 French baguettes could soon join Chinese calligraphy, Neapolitan pizza and Belgian beer on a global list of officially recognized cultural treasures. President Emmanuel Macron is hoping to lend some serious sway to a campaign by his country's bakers to have the iconic doughy delicacy secure a place on UNESCO's "intangible heritage" list.
Not content with honoring sites like the Great Barrier Reef and Victoria Falls, the UN's cultural organization also offers protection to "traditions or living expressions" based on their cultural impact and importance.
The French leader has seen an opportunity to have perhaps his country's most famous export added to list after Naples' world-renowned brand of pizza was recognized in December.
During an interview with Europe 1 radio, President Macron said the French baguette has been "a part of humanity since its beginning" and was "envied around the world".
"The baguette is part of the daily life of the French, in the morning, at midday and in the evening," he said. "It's not a matter of beliefs - everyone has it."
Macron was speaking in support of a bid by the president of the National Confederation of French Bakers, Dominque Anract, who said the "marvelous" baguette must be protected against "the increasing weight of big supermarkets and convenience stores in the retail of bread."
UNESCO added 42 entries to the Intangible Cultural Heritage list in 2017, including the art of Neapolitan pizza and Kolo - a traditional Serbian folk dance.
France already has 15 entries, including one for food - "the gastronomic meal of the French", which UNESCO says "draws circles of family and friends closer together and, more generally, strengthens social ties."
The UK is not yet featured anywhere on UNESCO's Intangible Cultural Heritage list, but the Tower of London and the Lake District are among the 31 British sites with a place on its World Heritage list.