Far less Argentines than expected crossed to Chile for the Pope's visit
Tuesday, January 16th 2018 - 09:57 UTC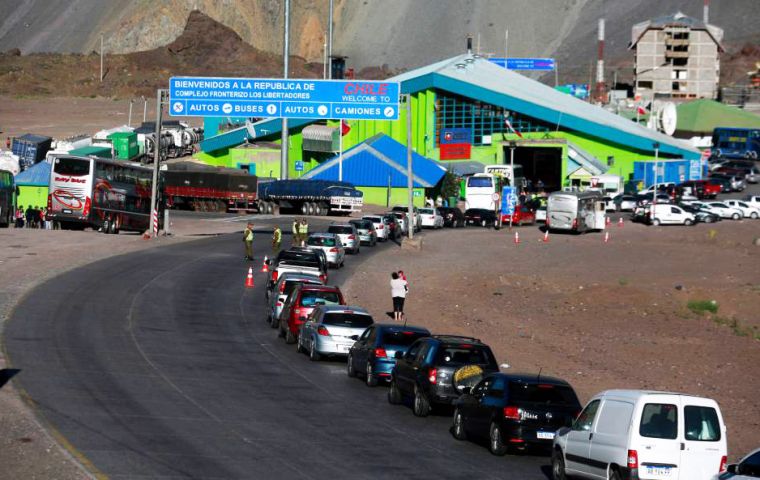 Argentine born pope Francis three-day visit to neighboring Chile attracted less of his countrypeople than was expected according to the preparations and border controls. The Argentine Gendarmerie at the Christ Redempteur pass, reported that on Sunday, 4.283 people in 1.995 vehicles crossed to Chile plus another 2.966 faithfull in 77 coaches.
Overall between January 8 and 12, more than 38,000 people made the trip from the Argentine province of Mendoza to Santiago at the Christ Redempteur crossing the most active between the neighboring countries.
"Customs booths operated normally with an average delay of approximately 30 minutes" said the authorities at the crossing, while the Pehuenche pass further south, reported light traffic with a 10/15 minutes delay, according to Chilean sources who have organized a multi ministerail task force for the Pope's event.
"The number of vehicles we were expecting never turned up" admitted the provincial coordinator Nesto Majul at the Christ Redempeteur Pass. "We clearly have been ahead of demand", he added.
"We organized a deployment thinking in a greater repercusion, but things have been quiet; actually there are more people returning from Chile than heading for Santiago", said Gendarmerie sources. Mid January is also summer holidays in the southern hemisphere and many Argentines who had spent two weeks in Chile were returning to Argentina.
Furthermore the original idea was to restrict heavy trucks from crossing between 05:00 in the morning and 17:00 in the evening, but given the limted flow it was agreed by both countries to lift the ban and resume traffic.
The international Christ Redemptour pass, 3.200 above sea level in the main crossing between Argentina and Chile and the one through which most commercial cargo is transported. In anticipation of the Pope's visit the customs and control staff was increased to 300, as well as sanitary inspector to 100.