Fifteen years of success for Airbus; backlog of 7.265 aircraft at the end of 2017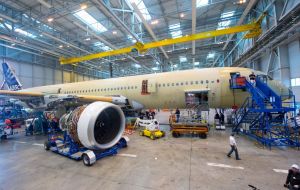 Airbus' Commercial Aircraft deliveries in 2017 were up for the 15th year in a row, reaching a new company record of 718 aircraft delivered to 85 customers. Deliveries were more than 4% higher than the previous record of 688 set in 2016. The 2017 total comprises: 558 single aisle A320 Family (of which 181 were A320neo – an increase of 166% over 2016); 67 A330s; 78 A350 XWBs (up by nearly 60% from 2016) and 15 A380s. Furthermore, to cap this resounding annual production achievement, Airbus achieved 1,109 net orders from 44 customers. At the end of 2017 Airbus' overall backlog stood at 7,265 aircraft valued at US$1.059 trillion at list prices.
Fabrice Brégier, Airbus Chief Operating Officer and President Commercial Aircraft commented: "A new Airbus delivery record coupled with our fifth best order intake wraps up a remarkable year for us. This outstanding achievement is testimony to the dedication of all our teams, and makes the company fitter, stronger and ready for the opportunities ahead."
With this year's performance Airbus has steadily built on deliveries year on year – with 15 consecutive years of production increase. From its four A320 Family plants in Hamburg, Tianjin, Mobile, and Toulouse, Airbus is on track to achieve rate 60 per month on single-aisle by mid-2019. Meanwhile, the A350 XWB is equally on track for rate 10 by the end 2018. Airbus' healthy order intake in 2017 resulted in a 'book-to-bill' ratio of 1.5.
There were many industrial milestones achieved by Airbus Commercial Aircraft in 2017, which included: delivery of the 100th A350 XWB; the delivery of the 50th A320 Family aircraft from our FAL in Mobile; delivery of Emirates' 100th A380; first flight of the A330neo; certification of the A350-1000; first A321neos delivered with CFM and P&W engines; inauguration of the new A330 Completion and Delivery Centre in Tianjin, China, with two first deliveries; and structural completion of the first Beluga XL. On internationalisation, partnership with China is expanding while Americas footprint is equally extended. Moreover, in the provision of Services worldwide Airbus is significantly enhancing its local presence to be closer to its customers.
Airbus closed out 2017 with orders in December for 841 jetliners – the highest monthly intake in company history and delivered 127 aircraft during the month – also marking an all-time high.
The new business at year-end was composed of 828 bookings for Airbus' best-selling A320 single-aisle family in both its NEO and CEO versions; along with 13 A330s, eight of which will be produced in the A330-900neo configuration, and five A330-200s to be converted into the Multi-Role Tanker Transport variant for military service.
Three triple-digit A320 Family orders led the December activity: Wizz Air's 146-aircraft booking (for 74 A321neo and 72 A320neo versions); 100 A320neo and 34 A321neo jetliners for Frontier Airlines; along with Delta Airlines' 100 A321neo and five A321ceo versions.
Other large acquisitions during the month were 80 A320 Family aircraft for Volaris (46 A320neo and 34 A321neo versions), 70 for JetSMART (56 A320neo and 14 A321neo jetliners), and 55 for China Aircraft Leasing Group Holdings Limited (50 in the A320neo configuration and five A320ceo).
Ordering 50 aircraft each were Qatar Airways (50 A321neo aircraft), the lessor AerCap (25 each for the A320neo and A321neo versions) and Viva Air (35 A320neo and 15 A320ceo jetliners).
Completing the December single-aisle jetliner transactions were Pegasus Airlines' booking for 25 A321neo aircraft; an order for 20 A321neo and another booking for 20 A320neo jetliners from two non-identified customers; 10 A320ceo versions for GE Capital Aviation Services; the acquisition of four A321neo and two A320neo aircraft by Air Lease Corporation; six A320ceo aircraft for Aviation Capital Group; and one A321neo for Middle East Airlines.
Airbus widebody orders during the month included eight A330neo Family jetliners (composed of four A330-900s for a non-identified customer, along with two A330-900s each for Air Lease Corporation and Air Senegal). Also booked in December were five A330-200s, which are to be converted by Airbus into the military MRTT (Multi-Role Tanker/Transport) configuration. Taking the December order cancellations into account, Airbus' net orders for the month totaled 776 aircraft. This brought the overall 2017 orders to 1,109 aircraft, compared to 731 in 2016.
The record-setting 127 aircraft delivered in the final month of 2017 were received by 50 customers, comprised of 105 A320 Family aircraft (including 47 in the NEO configuration), 12 A330s, nine A350 WXBs (in the A350-900 version), and one A380. As a result, Airbus deliveries during the year reached the 718, compared to 688 in 2016.
As of 31 December, Airbus' overall backlog of jetliners remaining to be delivered stood at 7,265 aircraft – a new industry record