Support for Lula's presidential bid despite his corruption conviction
Tuesday, January 16th 2018 - 09:52 UTC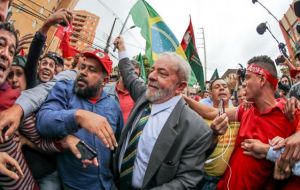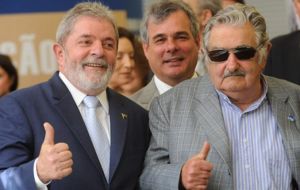 Four South American ex-presidents are among more than 170,000 people who signed a petition supporting former president Lula da Silva bid for another term as Brazil's president, despite his corruption conviction. US film-maker Oliver Stone also signed the online petition supporting Lula, whose electoral aspirations are at risk of being blocked.

The petition on change.org, titled "Election without Lula is a fraud", comes ahead of a January 24 court ruling on his appeal of a nine-and-a-half-year jail sentence issued last July.

Former presidents Cristina Fernandez de Kirchner of Argentina, Jose Mujica of Uruguay, Rafael Correa of Ecuador, and Ernesto Samper of Colombia are among the personalities who have signed the document.

It calls the scheduling of the appeal date "purely an act of persecution" against Lula as his support "grows in the polls."

Lula was Brazil's first democratically elected populist president and was credited with helping lift 30 million Brazilians out of poverty. He was hugely popular during his 2003-2010 two-term presidency, but his reputation was damaged by steep economic decline under his handpicked successor Dilma Rousseff who was impeached in 2016 for breaking budget rules.

A court convicted Lula in connection with Brazil's "Car Wash" graft probe, which began with a seemingly run-of-the-mill money laundering investigation but which led investigators to a web of corruption involving much of the country's political and economic elite.
The appeal court's ruling could decide whether Lula can take part in October 2018 presidential elections in which he is currently the frontrunner. While Lula could find ways to appeal further, a ruling against him would throw the presidential race into further uncertainty.

Lula, 72, also faces six other corruption cases. He claims that a "diabolical pact" has been struck between prosecutors, federal police and the media to prevent his return to the presidency.

He has said he was convicted "without proof" by a judge who found that he received a luxury beachside apartment and US$1.1 million in cash from one of Brazil's biggest construction companies, OAS.

Lula has remained free pending the appeal. In August, Brazilian lawmakers tossed out a corruption charge against the current president, center-right leader Michel Temer.