Falklands' lawmaker in Guyana to discuss self determination and border controversies
Wednesday, January 17th 2018 - 22:37 UTC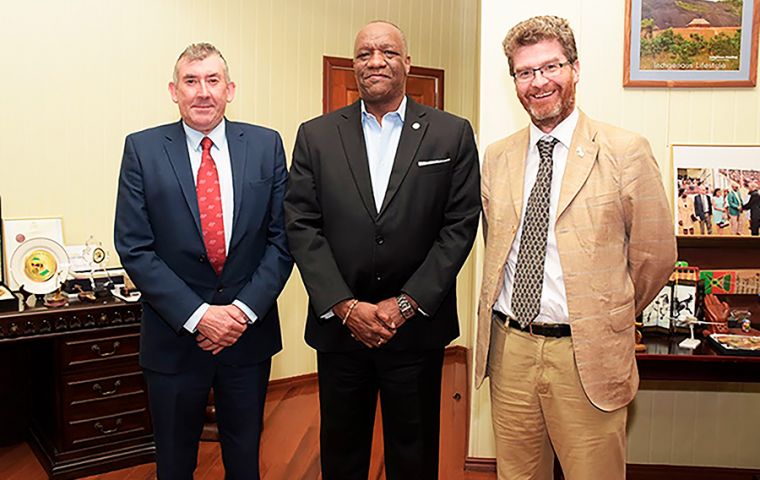 Falkland Islands lawmaker MLA Ian Hansen made on Wednesday a courtesy call on Guyana's Minister of State Joseph Harmon at his office in the Ministry of Presidency, in Georgetown, the country's capital.
According to an official release among the issues discussed were the Falklands' fight for self determination, the Guyana-Venezuela border controversy, the state and future of the Guyana Sugar Corporation, GuySuCo, and the sugar industry, plus the emerging oil and gas sector.
Guyana is expected to become a major hydrocarbons supplier in a few years following ExxonMobil successful run of oilfield discoveries offshore the ex UK colony. Exxon finds, Liza, Payara, Snoek, Liza Deep and Turbot wells are estimated to contain more than 3.2 billion barrels oil equivalent. The US based company has rights over the 10,000-square-mile Stabroek Block, which lies about 100 miles offshore Guyana.
Member of the Legislative Assembly Ian Hansen was accompanies to the meeting with Mr. Harmon by British High Commissioner to Guyana, Mr. Gregory Quinn.
This is not MLA Hansen's first visit to Guyana, which is very supportive of the Falklands' people deciding their own future. In effect a couple of years ago in a familiarization visit to the country MLA Hansen was received by president David Granger and other top officials.
Guyana is a member of Unasur (Union of South American Nations); Caricom (Caribbean Community), Celac (Community of Latin American and Caribbean States, Petrocaribe, and associate member of Mercosur, among other regional and international organizations.