Uruguayan farmers surprise government and take to the roads to protest fiscal policies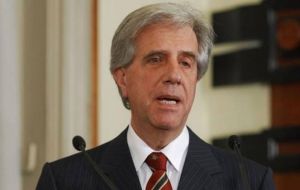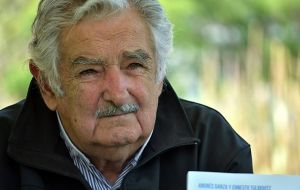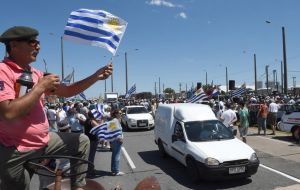 Uruguayan farmers with their tractors, harvesters, trucks, vans and on horseback took to the roads to protest the cost of fuel, power, increased taxes and an over bloated national budget and bureaucracy which they blame for making several farm activities unprofitable, and have had an overall negative impact for the different camp activities.
The protests during the January recess (August in the northern hemisphere) took the Uruguayan government by surprise, and was the reaction to a request for a meeting with president Tabare Vazquez who promised that sometime in late January he would look at his agenda and consider a date.
Vazquez is an arrogant oncologist and supine ignorant of farm affairs and his longtime Agriculture minister, Tabare Aguerre, had actually presented his resignation several months ago, and it only surfaced when the conflict. Aguerre is a successful rice farmer and for several years when commodity prices were ever so bullish he was considered an efficient minister. However since the wind changed, and international prices have fallen while costs have risen, admittedly he lost influence or rather the funding battle with all powerful Economy minister Danilo Astori, or at least that is the majority opinion among farmers.
Astori and his team have managed the Uruguayan economy for the last thirteen years, since the catch-all coalition Broad Front took office, and which coincided with the commodities boom. However despite his communist background Astori has had an orthodox approach to economics, but be it not for very few periods has been unable to balance the budget which has been showing an almost 4% GDP deficit for several years running despite the tail winds and big increase in taxes.
And since in Uruguay the government establishes administratively the price of most crucial inputs such as fuel, power, water, social security, and has pledged no more taxes, it simply collects extra revenue by inflating the goods and services rendered by the government owned companies. And thus following an end of year raft of increases farmers took to the roads to protest and promise an even bigger national turnout at the end of the month.
Vazquez finally agreed to a meeting following the outburst, and suggested a dialogue round with the different sectors of farming, but pointed out there was "no backtracking" of the economic policy, and will only sit to talk with those farmers who are institutionally organized, which is contrary to the current spontaneity, since this would mean "chaos and disorder". As to ratify his position Vazquez confirmed as Agriculture minister, Aguerre's deputy and his team in the ministry.
Interestingly the so called institutionalized organizations which represent farmers, (mostly large farmers) were also taken by surprise by the strong protest movement and decision to continue with their demonstrations, and have been left in a difficult delicate position. In good talking terms with government, despite the normal regular complaints, they cannot ignore the spontaneous outburst, and anticipated they will decide next January 23 when the announced major concentration in Durazno, heartland of Uruguay. Whether their sponsorship will be totally accepted in the current circumstances is yet to be seen.
Finally ex Agriculture minister and ex president Jose Mujica, said correctly that the rural sector is not homogeneous, since it includes, cattle, sheep, soybeans, dairy, poultry, rice, and pain is different in the different sectors. However the former guerrilla, who was known as "Sloppy Joe" by his comrades in arms given his lack of any organization talent, is also partly responsible since during his administration the government owned fuels company Ancap, went broke, and the power company UTE was left hanging on the cliff. These mismanagements have forced these companies to charge rates with sufficient margin to recapitalize them and have a sufficient surplus to be collected by the Treasury to help finance the budget. This means fuel and power prices in Uruguay are the dearest in Mercosur, and with international falling prices for commodities it should come as no surprise (for Vazquez and Mujica) that farmers are out in the roads with their tractors and harvesters.