Bipartisan efforts failed: US Government shutdown
Saturday, January 20th 2018 - 10:48 UTC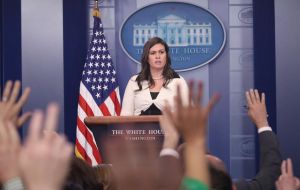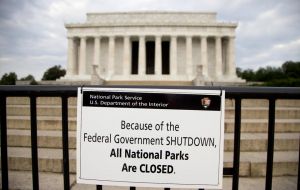 For first time since 2013, the US government is in shutdown after senators rejected a temporary spending patch. Trump accuses Democrats of taking Americans hostage with their demands.
Bipartisan efforts to find an alternative failed as a midnight deadline came. In an attempt to extend the federal budget, Democrats blocked an agreed spending plan after having no solution included for more than 700.000 migrants beneficed by DACA program.
White House drew tough after the deadline, saying they would not negotiate over immigration issue until government funding is restored. "We will not negotiate the status of unlawful immigrants while Democrats hold our lawful citizens hostage over their reckless demands," White House press secretary Sarah Huckabee Sanders said in a statement. "This is the behavior of obstructionist losers, not legislators. When Democrats start paying our armed forces and first responders we will reopen negotiations on immigration reform."
From the first minute of Saturday, federal services began to come to a halt or be scaled back, even as lawmakers continued to argue on the floor of the Senate.
Essencial services and military activity will continue, but even serving soldiers will not be paid until a deal is reached to reopen the US government. Many public sector workers will be sent home without wages and services such as National parks or Museums will be closed or partially closed; even Courts and justice would move into contingency plans if the shutdown continues, allegued a spokeswoman at the U.S. District Court for the District of Columbia.
In 2013, the government was closed for two weeks.
By Sebastian Astorga.