Australian scientists attempting a krill "census" based on the "sound" of the species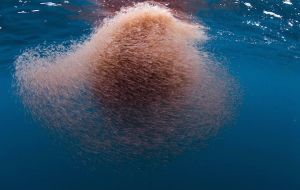 A team of Antarctic scientists hopes that an experiment to capture the "sound" of a single krill will help determine how many individuals of this key Antarctic species are swimming in the Southern Ocean. Researchers from the Australian Antarctic Division (AAD) are using echo sounder technology to record the sound of krill specimens of different sizes over a range of frequencies.
Dr. Martin Cox, acoustic specialist at the AAD, explains that if they can match the frequency signals with a single krill, they could determine the number of individuals in a complete swarm in nature.
"The echo sounders transmit pulses of acoustic energy in the water, when they hit an object, like a krill, the energy is reflected, amplified and illustrated on a digital screen," says Dr. Cox.
"When we use an echo sounder to observe a krill swarm from a ship in the Southern Ocean, we want to be able to interpret these signals and determine how many krill make up the swarm," he adds.
To conduct the experiment, scientists have placed more than 8,000 Antarctic krill in a large 10,000-liter tank at the AAD headquarters in Kingston, near Hobart, Tasmania.
The tank is equipped with echo sounders, which transmit pulses of acoustic energy to the water. As the krill distance to the echo sounder is also a factor, underwater cameras will be used to control the exact position of each individual as their sound is recorded.
According to Dr. Cox, the data from the experiment will also allow scientists to interpret the information collected by the vessels that fish krill.
"There are many fishing vessels that use advanced echo sounders that operate at a different frequency than the one we use, so we do not have data on how krill reflects sound at those frequencies," explains the scientist.
Commercial krill fishing in the Southern Ocean is regulated by the Commission for the Conservation of Antarctic Marine Living Resources (CCAMLR), which uses a cautious approach to ensure that krill fishing is sustainable.
The Scientific Representative of Australia to CCAMLR, Dr. Dirk Welsford, says that research like this is important to ensure that predators such as whales, seals and penguins can continue to depend on krill as the main source of food.
"While current catches of krill are well below the total allowable catch established by CCAMLR, demands on the fishery are expanding for products such as supplements and fishmeal," says Dr. Welsford.