Falklands takes over Premier's Temporary Dock Facility until April
Monday, January 22nd 2018 - 09:51 UTC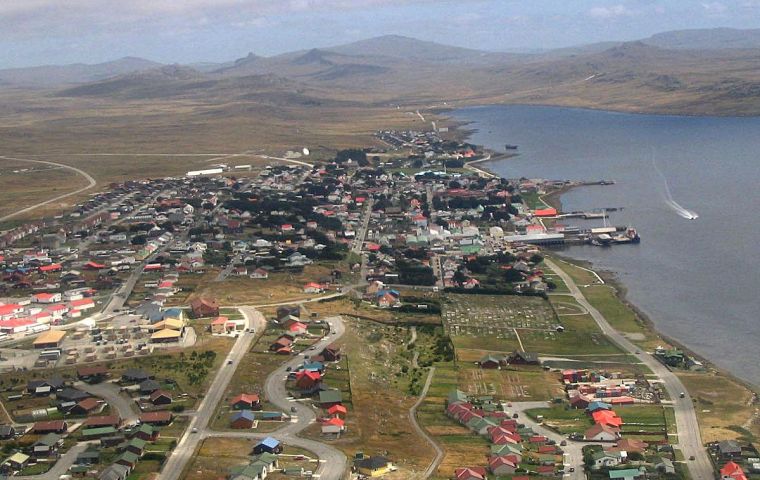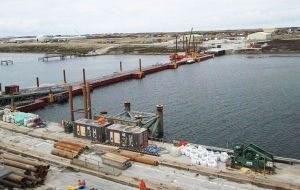 An agreement has been signed by the Falkland Islands Government (FIG) with Premier Oil to secure the use of their Temporary Dock Facility until March 31, 2018. This pilot project is intended to test the market for additional berthing capacity within Stanley Harbor and to facilitate maintenance works on FIPASS.
FIG Chief Executive Barry Rowland, said: "This project presents us with a good opportunity to determine if there is sufficient commercial appetite for an expanded dock infrastructure in Stanley Harbor.
"ATLink which manages FIPASS on behalf of FIG, will oversee all operations involving the Temporary Dock Facility".
Tom Blake of ATLink told Penguin News the company was awaiting instruction in relation to managing and operating the TDF.
Director of Natural Resources John Barton commented to Penguin News: "The berthing requirement at FIPASS tends to be 'feast or famine'. FIPASS can usually accommodate three vessels alongside. Some days the dock is empty but other days six vessels would like to be alongside.
The TDF can obviously take on some of the extra capacity when FIPASS is fully booked or if operations are limited for maintenance.
"There is a fair demand for berths from the cruise industry at present. As we move into the two squid seasons we will be looking to ramp up the number of catch verifications which also use dock space. Much of this work will have to happen at FIPASS but the TDF can be available to other vessels. (Penguin News)