"Enough is enough", thousands of Uruguayan farmers tell the government
Wednesday, January 24th 2018 - 10:02 UTC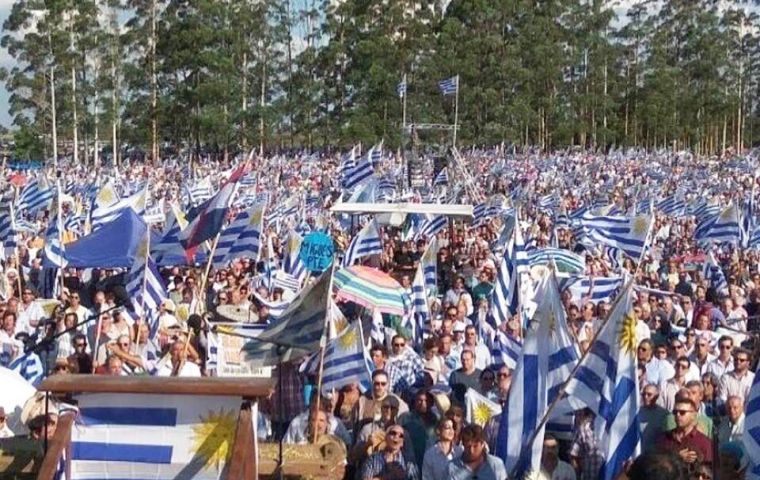 "Enough is enough", an end to the bloated state and its fiscal voracity, so that Uruguayan farmers can recover competitiveness, was the clear message from tens of thousands who gathered in central Uruguay to express their disenchantment with president Tabare Vazquez administration attitude towards the rural sector.
Under a massive display of Uruguayan flags farmers and families convened on Tuesday mid afternoon to the meeting in tractors, vans, trucks, harvesters, horse back to listen and express support for a strong statement requesting the Uruguayan government to review its fiscal and government companies policies, which translate into the dearest costs for fuel and power in Mercosur, and at municipal level taxes on land.
The government has admitted that some sectors are more vulnerable than others, (dairy) and is acting to help them out with their debts, but anticipated no changes to the current economic policy, and rejected point blank it was giving its back to the camp.
However what seems to have most infuriated the Vazquez administration is that the farmers spontaneous movement, with no clear leadership but a network of whatsapp, rapidly extended to other groupings and lobbies such as industry, exporters, manufacturers, tourism and even media owners who adhered or participated actively at the rally in Durazno, to complain about what is identified as the "Uruguayan cost" which makes Uruguay a "very expensive country".
Government media tried to downplay the event, saying attendance was far less than anticipated, while the more radical groups claimed it was clearly a political movement sponsored by opposition intent in removing the ruling coalition from office in 2019. Likewise Vazquez was not pleased that the so called institutional farm lobbies, as well as government, were surprised and unable to anticipate the degree of disapproval and complaint.
Now it has surfaced that the embryo of the protest took off with several farmers completely disappointed by the fact that president Vazquez had repeatedly postponed a 2017 request for a meeting until late February, since apparently, among other things, the president, he said was also entitled to enjoy summer holidays.
Nevertheless in their statement farmers pointed out that in twelve years the cost of the Uruguayan government has ballooned from 3.3bn dollars to 17bn, including increasing the payroll with 70.000 new staff. Likewise although Uruguay has been praised for its development of green energies, and is exporting power to neighboring countries, the domestic cost has not ceased to increase, when originally is was announced that electricity bills would be up to 13% cheaper. This did not happen and beginning January it was increased 6,5%, just below the annual 7% inflation.
Another issue the money exchange rate. Since Uruguay exports significantly are commodities, they have costs in strong Uruguayan pesos and sell overseas in weak US dollars. A cheap dollar means bad business or losses for farmers, aggravated by lower international prices for commodities. A recent report from the IMF officially announced that the US dollar in Uruguay was undervalued and should be at least 15% more expensive.
Farmers also included in their list of complaints the condition of highways and roads, which increase transport costs in time, fuel and spares.
Finally farmers and supporters dispersed peacefully and have promised to return unless a round of discussions with government officials hopefully advances on the requests which they argue, supported on government information, limit competition conditions for the farming industry.