Falklands praises remarkable ladies of globe-trotting Indian Navy INSV Tarini
Wednesday, January 24th 2018 - 07:41 UTC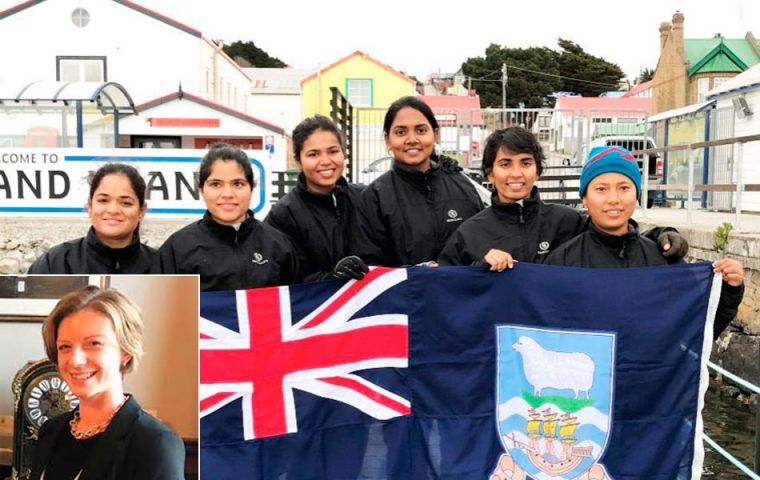 When the Indian Naval sailing vessel INSV Tarini sailed into Stanley Harbour at approximately 19:00 on Sunday 21 January it was warmly welcomed at the town's public jetty by the Falkland Islands Governor Nigel Phillips and MLA Stacy Bragger.
The 56-foot vessel has covered over 15,000 nautical miles in its maiden voyage, which aims to circumnavigate the globe. Stanley is the third stopover for the yacht and its all-female crew – who are all officers of the Indian Navy – who will remain in the Falkland Islands until early February.
During their time in the Islands the crew will take part in a series of community activities to promote sailing and the spirit of adventure.
Chair of the Legislative Assembly, MLA Teslyn Barkman, said: "We're thrilled to welcome these remarkable ladies to the Falkland Islands and are looking forward to showcasing our community and our culture during their stay with us. Falkland Islanders are known for their resilience which I think will resonate with this crew who have been at sea since September and have battled through some of the most challenging climatic conditions during that time."
Commodore Sameer Saxena, Naval Adviser at the High Commission of India, London, arrived in the Falkland Islands to meet the crew and congratulate them on their amazing achievement.
"Indian shipbuilders and seafarers have a strong connection with the Falkland Islands and have been calling in here for over 165 years. From the HMS Trincomalee, built in Bombay in 1817, to the INSV Mhadei which visited Port Stanley in 2009, right the way through to the INSV Tarini, ships 'Made in India' have visited these shores in the most ecological way to travel–sailing. This expedition is a symbol of those enduring traditions, history and sustainability, as well as a demonstrating how Indian women are increasingly being empowered to achieve their full potential", said Commodore Sameer Saxena
The INSV Tarini is expected to depart for Cape Town on 3 February, embarking on the penultimate leg of their intrepid journey before returning to Goa.