"Argentina has left the populist experiment, and no other country has its potential"
Friday, January 26th 2018 - 09:24 UTC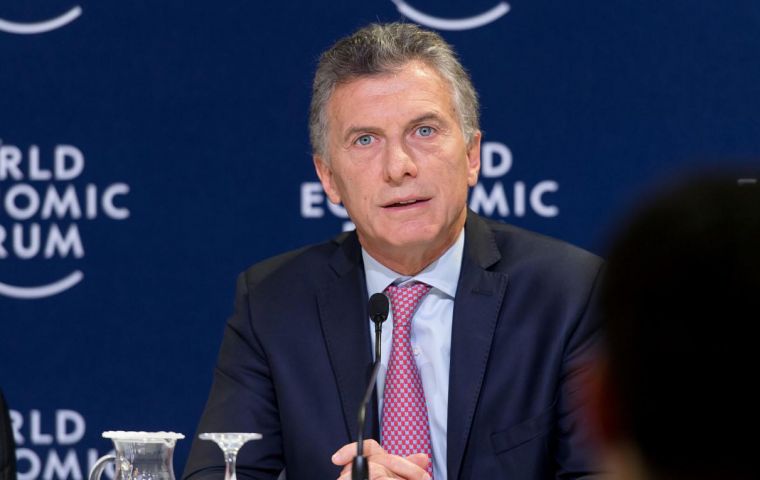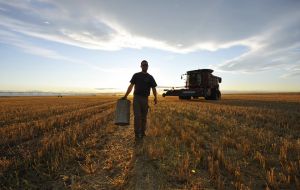 Argentina has left behind its populist experiment, and there is no other country with greater potential, Argentine president Mauricio Macri told the World Economic Forum in Davos during a speech to the forum of world political and business leaders.

"Yes, Argentina has suffered a fracture", admitted Macri on Thursday but "we are in a new phase and the country is fully involved in development with inclusive growth" underlined Macri, who then enumerated some facts of the new impulse: the economy expanded 4.2% in the third quarter of last year, inflation is the lowest in a decade and incomes and salaries' purchasing power are recovering.

And then challenging the audience he said emphatically, "no other country has a greater potential than Argentina", and that is why "Argentines are looking to the future full of optimism", and the country is enjoying the strongest growth period since 2011.

Detailing the potential, Macri mentioned renewable energies, hydrocarbons, particularly the shale deposits of Vaca Muerta, in mining one of world's largest reserves of lithium, and a dynamic tourism industry which offers all climates and spectacular sceneries.

Without forgetting that Argentina can become "a leading supplier of food for the world", which has been one of Macri's administration priorities since he took office in 2015.

As current president of the G20 group, Argentina will host the leaders' summit at the end of the year, "a true challenge", but Argentina is confident it can build the necessary consensus, as it did domestically, between developed and developing countries, targeting a fair and sustainable development.

Three are the priority areas for the Argentine G20 presidency: adapting labor conditions to the new technology changes; education and a sustainable sufficient supply of calories for everybody.

"We must convince the trade unions to join the education effort, to understand the technology changes, because as is the norm in the medical professional, we are all now forced to read and study every night at home to keep up with the inflow of advances", and in this area education plays a leading role.

Likewise Macri said that once Argentina was a very rich country and has the potential to be it again. "Argentine citizens have understood that if we continued isolated from the rest of the world, the poverty problems would continue and increase".

"Thus to reduce poverty and generate hope, we need to create jobs, increase investments, opening to the world and this means being reliable", underlined the Argentine president.

Finally Macri who from Davos flies to Paris to meet president Emmanuel Macron mentioned that the EU/Mercosur trade agreement is "vital", and is much needed by both sides, Europe and Mercosur, so it should be a priority. The Argentine president revealed he addressed the issue with many of the leaders attending the Davos forum.