Macri and Macron agree in most issues, but not in the EU/Mercosur talks
Saturday, January 27th 2018 - 08:25 UTC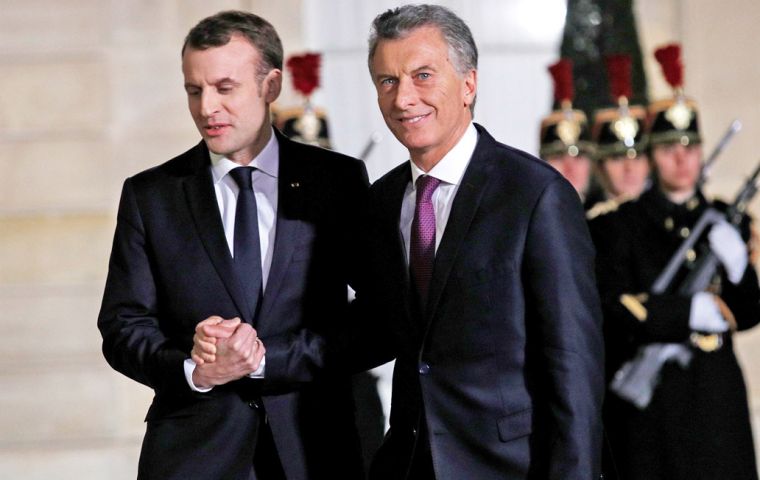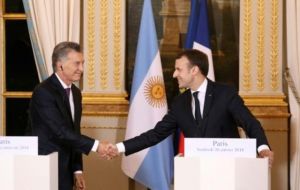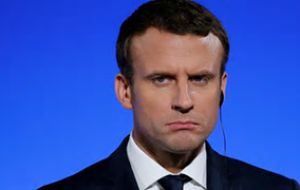 Argentine president Mauricio Macri ended on Friday his European tour in Paris, where he addressed the business community and potential investors, and later held a private meeting with president Emmanuel Macron. According to Argentine sources there is strong French investors' interest, but apparently Macron held his ground when regarding the EU/Mercosur overall trade agreement.
"It was an extraordinary positive event" not only because of contacts with the private sector but also on bilateral issues at government level, which did not discard in the near future an advance in the two blocks negotiations.
Macri arrived at the Elysée Palace on Friday, late in the evening, and was effusively received by Macron, with a military escort, which was followed by a meeting of an hour and twenty minutes. Both presidents were accompanied for the talks by their Finance ministers, Bruno Le Maire and Nicolas Dujovne, agriculture ministers Stephane Travert and Luis Miguel Etchevere, plus Argentine foreign minister Jorge Faurie and the Strategic Issues advisor, Fulvio Pompeo.
During a media conference following the meeting both leaders expressed their coincidences regarding a world open to trade and multilateralism, combating climate change and Argentina's soon to the formalized OECD membership. But differences also surfaced regarding difficulties to advance trade talks between the EU and Mercosur, particularly beef and ethanol. The French farm lobby is particularly strong and rejects point blank negotiations on any of the two issues.
Macri underlined the "production talks" held with Macron and insisted that a Mercosur European Union agreement is a great opportunity for both sides. But Macron said France was concerned about beef, and the sensitivity of the issue for French, and other European countries farmers. However "I'm persuaded that our negotiators will find the technical path to allow us to arrive to a reciprocal understanding".
Macri who had previously visited Moscow and met with Vladimir Putin and later attended the World Economic Forum in Davos, had anticipated that the beef issue was central in the discussions to be held in France with his peer Macron.
But the French leader said there were red lines which Paris is not willing to trespass, and "we will not be engaged in agreements which favor farming or manufacturing interests, thousands of kilometers away, and with another social and environment model, different to those imposed on similar sectors in Europe".
"France is determined to look after its beef market and production in the context of Brexit, and is not willing to allow destabilization in a sector considered excellent". But said this, "both regions are in a context favorable to advance contacts, and we believe that indispensable dialogue is the right path to reach an agreement totally possible and technically feasible".
On Saturday Macri and First Lady Awada are scheduled to visit ex president Nicholas Sarkozy, hold a meeting with the mayor of Paris, Anne Hidaogo and in the afternoon will attend the Parc des Princes to watch a soccer match of the French League between Paris Saint Germain and Montpellier, in which several River Plate players are the stars of both teams.
Saturday evening Macri and his delegation will be returning to Argentina in a commercial flight of Air France.