Macri and ministers expected to freeze their salaries, for one year, as part of the austerity measures
Monday, January 29th 2018 - 11:01 UTC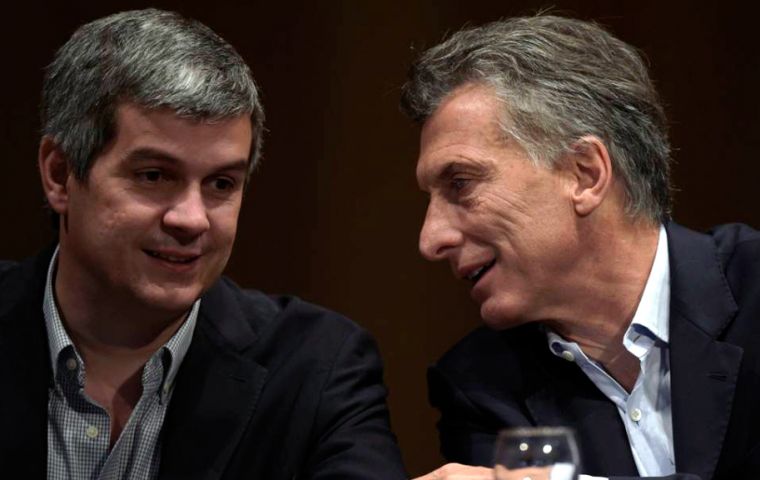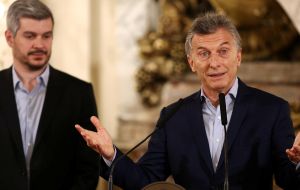 The government of Argentine president Mauricio Macri is expected to announce on Monday as part of the overall austerity and adjustment programs, a freeze on all top government salaries and the reduction of at least 20% in political nominee posts in the Executive branch.
The announcement will follow on the road map set out by the Modernization Ministry headed by Andres Ibarra with the purpose of simplifying the structure of ministries, secretariats and deputy secretariats, according to Executive sources in Buenos Aires.
"The political nominated posts reduction will be at least 20%, and in some cases could go even further", cabinet chief Marcos Peña anticipated a couple of weeks ago. The purpose is to lighten the government burden but also send a strong signal to the bureaucracy of the austerity policy the Macri administration is planning this year.
"This (austerity) effort must also be shared by the public sector, not only at federal level, but also in the provinces and municipalities. It's a commitment that was clearly established in the Fiscal Agreement (with the provincial governments) which is most important and was sanctioned at the end of last year", added Peña.
The shrinkage of the government structure, plus no additional contracting, will be accompanied by the freezing of the salaries of the top echelon of members of the Executive, which means no increases during the whole of 2018
As such the decision is extensive to president Macri, vice-president Gabriela Michetti. cabinet chief Marcos Peña, twenty ministers, more than 90 heads of secretariats and over 200 under secretariats that make up the Executive branch.
Ministers in Argentina are paid some US$ 10.000 before deductions and contributions; secretaries of state some US$ 9.000; deputy secretaries, US$ 8.300. Other top staff in the Executive, US$ 5.400.
The announcement comes in anticipation of the round of salary negotiations with the different unions, which the government wants increases to remain in the range of 15%, but some of the powerful unions have rejected point blank.