Punta Arenas reaffirms Antarctica links with two private support vessels
Monday, January 29th 2018 - 06:55 UTC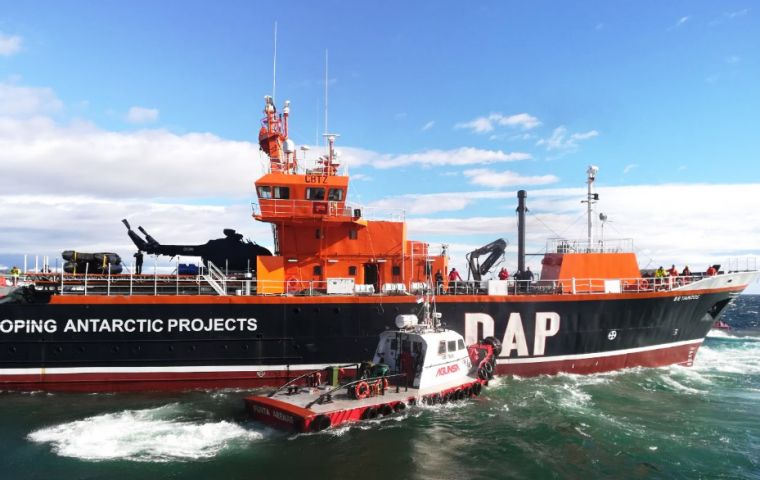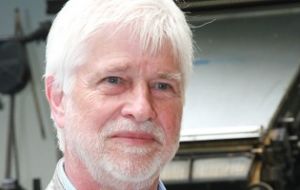 Punta Arenas. Chile seems determined to remain as the main calling point for Antarctica scientific and logistics support. This month two private undertakings were inaugurated which confirmed that determination, one of them is the DAP's MV Betanzos a scientific vessel for Antarctica research, and the second in the Antarctic Warrior, belonging to the Petromar company and which has been conditioned to transport supplies and fuel to Antarctica.
DAP is normally referred to air transport, (at one time it was responsible for the air link Punta Arenas/Falklands) but on this occasion it had a former factory vessel refurbished at a cost of US$ 11 million, and is now able to act as a scientific support vessel, with sophisticated equipment and a reinforced "ice-class" hull, plus accommodation for 64 people. She already has been contracted for a cruise to Antarctic islands and according to Nicolas Pivcevic, head of the company, she is already almost fully booked for the next season.
"Our customers will not only be able to fly to Antarctica but also sail across with all the needed scientific gear. We're the first in Chile to offer such service", said Nicolas Pivcevic.
The vessel was built in Vigo, Spain in 1978, she's 68 meters long, twelve wide and was modified to stand extreme weather and sail in ice floating conditions. She has a speed of 11 knots. In her first cruise Betanzos will sail ten days to some point equidistant from South Africa, Antarctica and South America for some cosmographic positioning.
The second vessel, Petromar Warrior, has also been converted into a multi-purpose unit which can transport some 1.500 tons of cargo equivalents to 37 containers and 700 cubic meters of fuel, plus a crane that can lift 50 tons. Although she was bought in Mexico, the vessel originally came from Norwegian shipyards.
Carlos Aron Horn, Petromar CEO said that the idea is for the vessel and company to become a reference for the region: "we plan to make five trips each summer season to the different Antarctic bases and stations, both Chilean and foreign".

However CEO Horn said that since the Antarctic trips are basically seasonal (November to April), the company is looking for other options during winter months, which could include some sub Antarctic islands, plus the Falklands or even Puerto Montt up the Chilean coast.
The vessel has a crew of twenty experienced mariners, and the company has also been involved in Antarctica since in 2014 when it incorporated a tanker, Overseas Petromar which has been supplying fuel to Puerto Williams and Antarctica.