Argentina promotes B20 agenda in London
Tuesday, January 30th 2018 - 19:37 UTC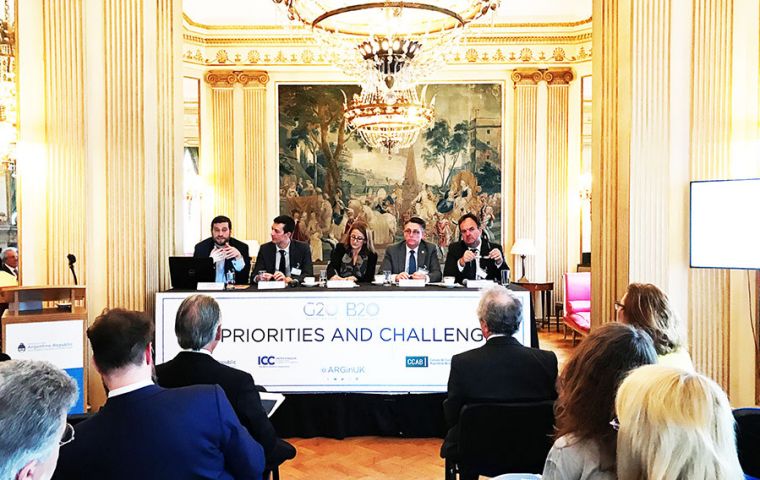 Daniel Funes de Rioja, Chair of B20, promoted the B20 agenda among British business, chambers, institutions and members of the press at the "B20 Priorities and Challenges" seminar at the Argentine Official Residence in London.
The Ambassador Carlos Sersale received B20 Chair and the economist Mario Blejer at the private sector group seminar after joning the president Mauricio Macri's delegation at the World Economic Forum in Davos last week.
"It is an honour to have Mr Funes on the first of many events the Embassy has planned in 2018 to promote Argentina`s presidency of the G20 In order to have British companies investing in Argentina we need them to engage with the B20", alleged Ambassador Sersale.
Mr Funes' speech revealed that Argentina's recent role in Davos shows that the country is integrating to the world as a "predictable and stable partner", promoting "multilateralism and free-trade". He added that the developing of several areas of technology and the promoting of an agenda oriented to integrate education prepares young people for the jobs of the future.
Vice-president of Banco Hipotecario Mario Bejer, who also joined Macri's delegation in Davos, remarked the huge attention to Argentina from the international business community and the possibility to return to the world from a position of leadership. He added that Macri was seen as a strong leader after the political crisis in the congress last December.
The B20 seminar also included topics as jobs, modern slavery, sustainable development and international fair trade.