EU Agriculture and Trade commissioners at odds over increasing Mercosur beef access
Tuesday, January 30th 2018 - 07:12 UTC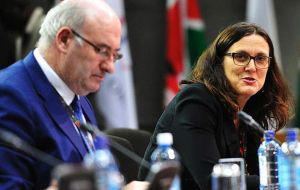 A long-awaited major trade deal between the EU and Mercosur may this week take a key step towards realization with ministerial teams from both sides meeting in Brussels on Monday. They are expected to give negotiators a new, decisive political impulse to reach agreement in a matter of weeks, according to Irish sources.
Critical to any agreement will be new offers on market access from both sides, with the EU likely this week to raise its offer on beef access for Mercosur from 70,000 tons a year to between 90,000 and 100,000 tons.
Commissioner for agriculture Phil Hogan is reported to be strongly resisting the higher figure, while trade commissioner Cecilia Malmström is said to be willing even to go beyond 100,000 tons. Mercosur is demanding some 200,000 tons.
The EU offer will only be made if the EU team is convinced that Mercosur will also make serious concessions in four key areas: better market access into Mercosur for cars and dairy products; the inclusion of maritime services; more favorable requirements on "rules of origin"; and access to public procurement at the sub-federal level.
The protection of food names like Rioja wine or Roquefort cheese is also high on the EU's priority list.
Ms Malmström, Sweden's commissioner, has described the potential deal as having "three times the value" of the EU's recent pact with Japan.
Mercosur is currently a relatively closed market, with high tariffs and non-tariff barriers. Tariffs of 35% apply to cars, 20-35% to key machinery products and 18% to soaps and beauty products.
In 2016, the EU exported goods to Mercosur worth €42 billion and, in 2015, services worth €22 billion. Trade relations between the EU and Mercosur are governed by an inter-regional framework co-operation agreement which came into force in 1999. The EU-Mercosur negotiations were re-launched in May 2010, paused in 2012 and resumed in 2016.
German and French car manufacturers are particularly interested in opening up the markets for their vehicles and are determined that a deal should go through.
The beef quota offer is causing considerable concern within the French, Belgian and Irish farming community where there are fears that the new Mercosur beef access could coincide with possible imposition by the UK of steep tariffs against Irish beef after Brexit. European markets could face a glut of Irish and Brazilian beef, signaling sharp cuts in prices to farmers.
Anyhow European Commission sources expressed hope that the talks will move to "endgame" in the weeks ahead since the current window of opportunity will be closed by next March when Brazil goes into election mode.