Surprise shock for Lula: praise from Temer, "he's a very charismatic figure"
Tuesday, January 30th 2018 - 09:49 UTC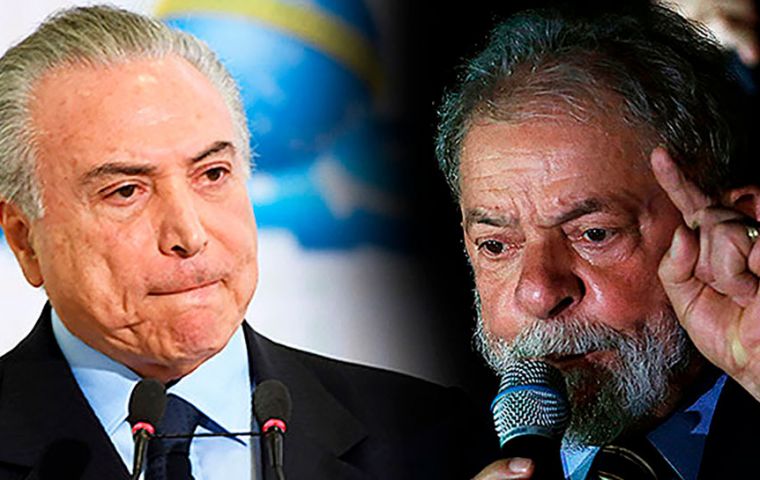 Brazil's popular but scandal-plagued leftist ex-president Luiz Inacio Lula da Silva got an unlikely morale boost on Monday from a political nemesis, current President Michel Temer. Lula easily leads the polls heading to October's presidential election but his dream of returning to office was left in doubt last week after an appeals court upheld an earlier corruption conviction against him.
The court also slapped him with a 12-year prison sentence. However, with lawyers continuing to challenge the conviction and sentence, Temer says Lula remains a viable force.
"He's a very charismatic figure. There's a reason he's leading opinion polls", Temer said on Radio Bandeirantes. "I don't think he's dead."
Lula was in office from 2003 to 2010 and won praise for presiding over a booming economy and large-scale anti-poverty measures. However, his legacy has since been heavily tainted by corruption revelations.
Lula's handpicked successor, Dilma Rousseff, was tossed out of office after being impeached in 2016. She was replaced by Temer, a center-right politician who says his job is to undo damage caused during the Lula-Rousseff era.
Temer made clear that his admiration for Lula has its limits. "Personally, I'd prefer him... to stand in the election so that he can be beaten at the polls, because that would calm the country," he said.
Temer, who has relied on congressional allies to protect him against his own corruption charges, is not running in October.