Lunar trifecta: supermoon, blood moon and blue moon; NASA livestreaming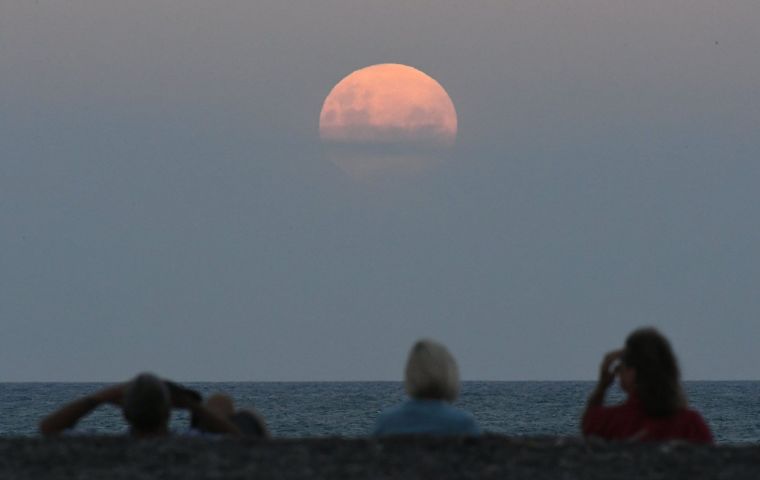 It's a once in a 'blue moon' occurrence and time for the moon to take the spotlight. Following the great solar eclipse last August, serendipity will strike on Wednesday 31 January, when a total lunar eclipse is set to occur at the same time as a supermoon and blue moon.
The moon, about as large as it can be in the sky, will turn a blood red color in the hours before dawn. The celestial event is a lunar trifecta: a supermoon (a moon at perigee, the closest to Earth that it gets in its orbit), a total lunar eclipse (a blood moon), and a blue moon (the second full moon of a calendar month).
The last time one of these "super blue blood moons" appeared in the sky was December 30, 1982, and the next one won't be until January 31, 2037. While those in the western United States, Alaska, Hawaii and the Pacific basin are perfectly situated on the planet to watch the show, those on the East Coast are not so fortunate. In the eastern U.S., the moon will set and the sun will rise before the total lunar eclipse begins, meaning they will not be able to see the moon turn a vibrant orangish-red. And no matter where you are, there is always the chance of cloud cover ruining the cosmic show.
Fortunately, NASA will be livestreaming the entire eclipse (weather permitting) with telescopes placed in three locations across the West: the Armstrong Flight Research Center in Edwards, California; Griffith Observatory in Los Angeles; and the University of Arizona's Mt. Lemmon SkyCenter Observatory.
The NASA TV livestream starts before the earliest phase of the eclipse begins, runs for four-and-a-half hours until 10:00 a.m. EST/7:00 a.m.. The total lunar eclipse, when the moon glows red from passing into the direct shadow of the Earth, begins at 7:52 a.m. EST/4:52 a.m. and lasts for one hour and 16 minutes. Along the Atlantic seaboard, the sun will have already risen by the time totality begins, but closer to the Pacific people should be able to step outside in the pre-dawn hours and see the eclipse, assuming there is no cloud cover.
But if you cannot see the eclipse directly for whatever reason, place of residence or inclement weather, NASA will have you covered with a telescopic view of the triple lunar phenomenon.