UK economy expands 0.5% in fourth quarter and 1.8% for the whole of 2017
Wednesday, January 31st 2018 - 08:55 UTC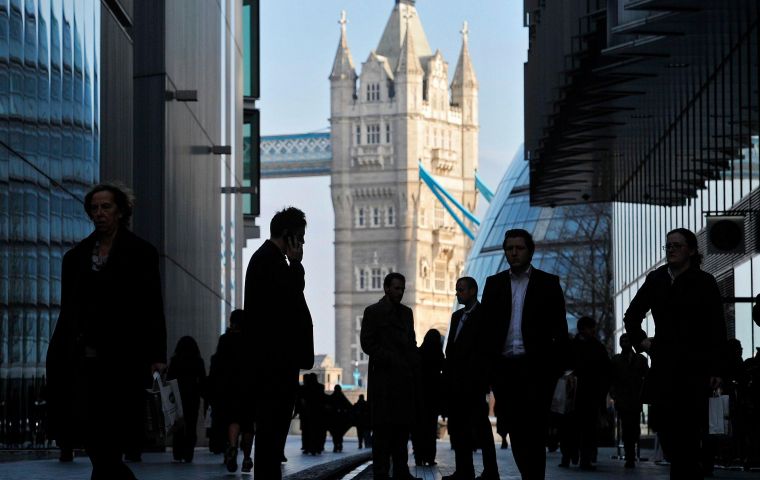 The UK economy expanded at a slightly faster pace in the fourth quarter on services and manufacturing output, but the full-year growth was the weakest in five years, preliminary data from the Office for National Statistics showed. GDP grew 0.5% sequentially in the fourth quarter, while the rate was forecast to remain unchanged at 0.4%.
The sequential growth also exceeded the Bank of England's projection of 0.4%. However, for the whole year of 2017, GDP growth came in at 1.8%, the weakest since 2012, following a 1.9% expansion posted in 2016.
The production-side breakdown of GDP showed that the dominant services sector advanced 0.6% in the fourth quarter, the fastest pace in a year. Production industries also grew by 0.6%, boosted by the second consecutive quarter of strong growth in manufacturing.
The ONS said the 1.3% growth in manufacturing was partially offset in total production by a significant fall in oil and gas extraction, caused by the well-publicized repair work made to the Forties pipeline. On the other hand, construction contracted for the third quarter in a row, falling by 1% after easing 0.5% in the third quarter.
On a yearly basis, the economy expanded 1.5%, slightly slower than the 1.4% growth economists had forecast and 1.7% growth registered in the third quarter. Another report from ONS showed that the index of services climbed 0.4% month on month in November, the biggest expansion since August 2016.