Venezuela will hold pre-sale of the new "petro" cryptocurrenty on February 20
Wednesday, January 31st 2018 - 22:51 UTC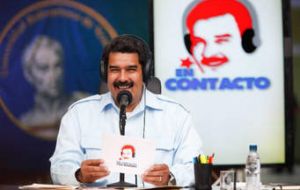 A "pre-sale" of Venezuela's new 'petro' cryptocurrency will begin on February 20, President Nicolas Maduro said on Tuesday, a move that the government hopes will help pull the country out of a dire economic crisis.
Maduro has previously said that the government will issue 100 million tokens, each valued at - and backed by - the equivalent of one barrel of Venezuelan crude. That would put the value of the entire petro issuance at just over US$ 6 billion.
"All the cryptocurrencies of the world have been revalued after Venezuela's announcements about the creation of the petro," said Maduro in a speech broadcast on state television.
The OPEC nation is seeking to raise hard currency amid a crippling crisis.
Venezuela's government has said that the petro issue will help the cash-strapped country make financial transactions and overcome U.S. sanctions against Maduro's populist government.
Critics have slammed the move as not only illegal but a simple debt issuance for a government overseeing quadruple-digit inflation and major shortages.