Falklands government requests proposals for a future port facility
Friday, February 2nd 2018 - 07:45 UTC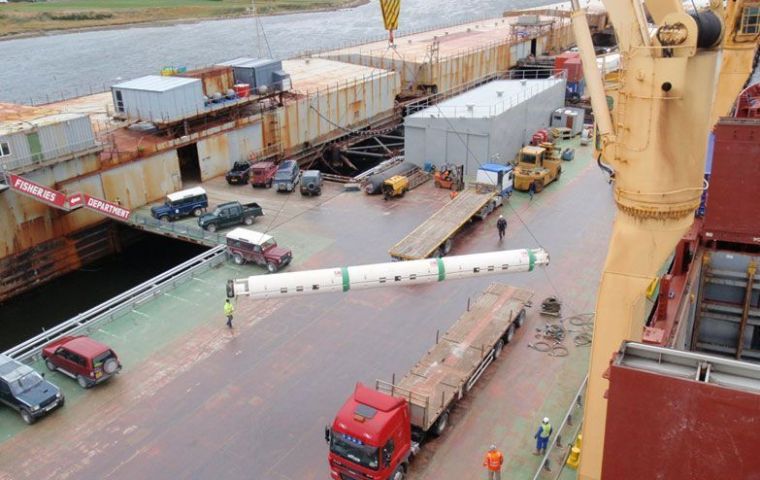 The Falkland Islands government, FIG, is requesting proposals for a future port facility since the current structure, dating back to 1984 and which has had its useful life patched up and extended several times, is nearing its operational end.
In effect the Falkland Interim Port and Storage System (FIPASS), made uo of modules, has been operational since 1984 and supports the economic development of the Falkland Islands. FIPASS is owned and operated by FIG but the operation of the facility cannot be assured beyond 2021 due to the age and condition of the infrastructure.
FIG underlines that the Request for Proposals is not a pre‐qualification to a formal competitive bidding tender process.
FIPASS, was originally brought to the Falklands following the 1982 conflict to act as a floating dock and dorms to lodge the hundreds of troops sent to the battle field in the Islands and the following recovery and reconstruction period.
A similar floating dock ended in New York where it was used for several years as a prison by the state's penitentiary service.
FIG specifies that the provision of a port facility has been the subject of various reviews including a Deep Water Harbour Option Study by Mott MacDonald in 2001, Port Services Assessment by Jonathan Packer & Associates in 2003, Proposed Port Development Plan by Royal Haskoning in 2006 and various studies completed in 2013 and 2014.
The information is available to interested parties upon request.
FIG is seeking to invite those parties interested in developing, financing, constructing and operating a new port facility in the Falkland Islands to submit their views and outline proposals. FIG is interested to receive a submission detailing the following:
• Demand for a new port facility;
• Scale and shape of a new port facility;
• Location of a new port facility;
• Infrastructure & port related facilities e.g. storage/warehousing, administration facilities;
• Operational requirements e.g. booking system, CCTV, security, port safety, cranes;
• Key services e.g. pilotage, bunkering, maintenance, cargo handling;
• Funding proposals for the development, construction and operation of a new port facility;
• Proposed partnership arrangements and/or corporate management structure;
• The proposed development delivery programme and ;
• Outline business plan.
FIG is keen to work with interested parties to help shape and scope out the development requirements for the future port facility eventually leading to a formal procurement process.
Interested parties are requested to submit their response via e‐mail to Iain Robertson, Director of Development & Commercial Services ddcs@sec.gov.fk no later than 16.00 FKST Friday 16th March 2018. Meetings at any stage with interested parties can be arranged on request.
However provide full details of the organisation or consortia, including key financial information, number of employees, stakeholders, geographical coverage, relevant experience and track record.
Once again interested parties should note that this Request for Proposals is not a pre‐qualification to a formal competitive bidding tender process.