US payrolls expanded by 200.000 in January, and wages started to creep up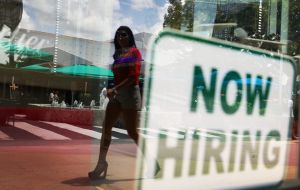 The United States labor market barreled forward in January, as employers added more jobs than expected and wage growth was its strongest in more than eight years. Payrolls in the United States expanded by 200,000 last month, driven by hiring in construction, food services and health care, the US Labor Department said.
The average hourly wage for private sector workers crept up 2.9% compared to January 2017. The unemployment rate held steady at 4.1%.
Economists have puzzled over lackluster wage growth, which has lagged in prior months despite the decline in the unemployment rate. Without higher wages, economists have warned that economic growth will be difficult to sustain, since consumer spending plays a large role in the US economy.
The Labor Department report, released on Friday, showed average hourly earnings for private sector workers rose 9 cents in January, to US$26.74. For the year, the increase was 75 cents.
The wage uptick coincided with mandatory minimum pay increases in 18 states. Major employers such as Walmart have also said they planned to boost earnings or provide bonuses.
Other data in the report was a reminder that monthly gains can be fleeting. For example, the unemployment rate among black workers jumped in January to 7.7%, rising after falling to a record low of 6.8% in December.
President Donald Trump had trumpeted that decline as evidence of economic improvement. The US is now in its ninth year of expansion and has been adding jobs steadily since 2010 and the increases in January occurred across most industries, a sign of solid growth.
Despite a relatively high number of job openings, participation in the labor force has remained stuck below 63%, several percentage points lower than it was before the financial crisis.