As Dow Jones plunges 10% points, fears of a bear market and ripples effects on the economy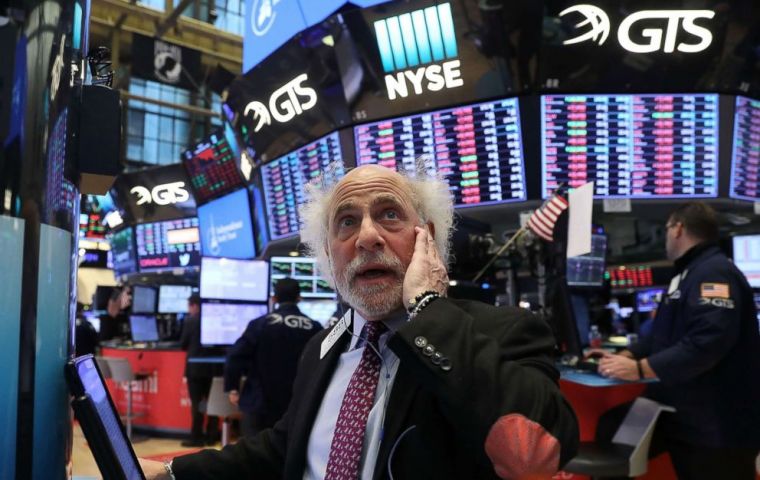 The United States Dow Jones industrial average nosedived more than 1,000 points on Thursday, registering another eye-popping loss for the closely-followed index, as wild trading and fears of rising interest rates around the world took hold of traders. The Dow as well as the S&P 500, a broader stock index, are now down more than 10% from their all-time highs, passing an important psychological barrier known as a "correction" for the first time in two years.
Such pullbacks are relatively common and usually occur over a two- to three-month period. But the jarring nature of the market plunges over the past two weeks — on Thursday the Dow tumbled nearly 500 points in a mere 30 minutes before the closing bell -- are beginning to reshape sentiment on Wall Street. Some analysts are now predicting darker, more volatile times ahead.
The declines, if they persist, and the fear they generate can have ripple effects on the economy, which is performing solidly right now in the United States and abroad. When people see massive losses in their brokerage accounts or 401ks, they tend to lose confidence and spend less.
Investors also are growing concerned that inflation is rising, which is compelling central banks to raise interest rates. That makes it more expensive for companies and consumers to borrow, hampering actual economic activity.
"Ten percent is no small potatoes," said Chris Rupkey, an economist with MUFG Union Bank. "It's a big number. That loss of wealth is going to take a toll on overall spending in the economy both for businesses and individuals."
Regardless of whether the market continues on its downward trajectory – a much more menacing "bear market" looms if stocks fall 20% – many analysts said the last two weeks of dramatic drops, rapid rises and followed by more heart-pounding dives have already made a distant memory of the blissful and steady multi-year rise in stocks.
One factor that may have contributed to Thursday's sell-off were remarks by the Bank of England, which said it might have to raise interest rates "earlier" and by a "somewhat greater extent" than it had thought.
That reinforced to markets that the easy-money policies put in place by central banks during the global recession a decade ago are coming to an end. Instead, policymakers will be raising interest rates to keep inflation in check.
Thursday's losses wiped out all of the gains for the year for the Dow and S&P. The Dow dropped 1,032 points, or about 4.2%, to close at 23,860 — the second time it has lost more than 1,000 points over the past week. The Dow is now 10.4% below its all-time high on Jan. 26.
The technology-laden Nasdaq and S&P also tumbled lower on Thursday with each seeing losses of nearly 4 percent. Trading volumes were far above normal.
Alexandra Coupe, associate director investment manager PAAMCO, said rising inflation makes stocks less attractive as a place to invest.
"If I have to choose bonds or equities, with interest rates going up, bonds just got more attractive," she said.
Coupe said the volatility is rising because investors are undecided whether stocks or bonds are the better bet at the moment. Bonds are safer but often return less money than stocks.
On Thursday, the yield on the benchmark U.S. 10-year Treasury bond touched a four-year high before falling back to 2.83%. A 3% yield is looked upon by investors as a sign that investors are fleeing the risk of stocks for the relative safety of bonds.
Some believe the 3% yield is inevitable. Bond yields are rising as the Federal Reserve trims its U.S. bond holdings and pulls back on its easy-money policies. The Treasury is also having to borrow more money, partly because of the tax cuts.