Colombia and Brazil tighten controls along Venezuelan border: thousands pouring in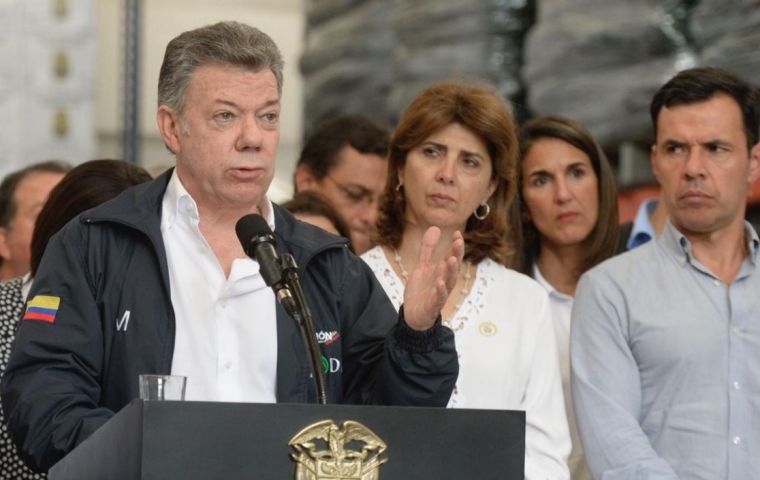 Colombia and Brazil tightened border controls with Venezuela on Thursday as both nations grapple with a mounting influx of hundreds of thousands of desperate migrants fleeing a worsening economic crisis In a visit to the border region, Colombian President Juan Manuel Santos said he would impose stricter migratory controls, suspend new daily entry cards for Venezuelans and deploy 3,000 new security personnel along the frontier, including 2,120 more soldiers.
Speaking in Cucuta, a Colombian border city of about 670,000 inhabitants, Santos warned that his government would strictly prosecute any unlawful behavior by Venezuelans, amid concerns over rising crime. He said Colombia was spending millions of dollars to support the migrants.
Brazil's Defense Minister Raul Jungmann, speaking in the northern border town of Boa Vista, said the government would also deploy more troops and start relocating tens of thousands of Venezuelan refugees who have crossed the open frontier to seek food, work and shelter.
Both countries said they would take measures to count the number of Venezuelan migrants who have entered their territory: Brazil through a census and Colombia through a registry.
The moves to tighten border security could threaten a key social safety valve for desperate Venezuelans as hyperinflation and a severe recession grip their oil-rich country.
The steps also signaled a mounting regional frustration with Venezuela's unpopular President Nicolas Maduro, who will seek re-election on April 22 amid conditions that the United States and other countries say are stacked against a divided opposition.
Maduro is expected to win reelection despite a recession that is now in its fifth year.
"I want to repeat to President Maduro - this is the result of your policies, it is not the fault of Colombians and it's the result of your refusal to receive humanitarian aid which has been offered in every way, not just from Colombia but from the international community," Santos said.
On Thursday, the United States condemned the Venezuelan government's decision this week to set a date for the presidential election in the absence of guarantees that it will be free and fair.
The move came after the collapse of mediation talks in the Dominican Republic between Madera's government and an opposition coalition.
The opposition had lobbied for the elections to be delayed until later in the year to give it more time to choose a candidate, since its top two leaders are barred from running.
Members of the so-called Lima Group monitoring the crisis in Venezuela, which includes several Latin American nations and Canada, were due to meet in Peru next week to craft a response to Madera's decision to press ahead with the vote.
Colombia has borne the brunt of the exodus of Venezuelans fleeing malnutrition and political turmoil in their once prosperous nation: the number living within its borders jumped by 62 percent in the second half of last year to more than 550,000.
In Brazil's northern border region of Roraima, migrants have strained public services and stirred anger among some residents, particularly in Boa Vista, the local capital.
Colombia estimates that it costs US$5 per day to supply each Venezuelan migrant with food and lodging. The government did not say how many migrants it was supporting.