WW2 German bomb forces closure of London City Airport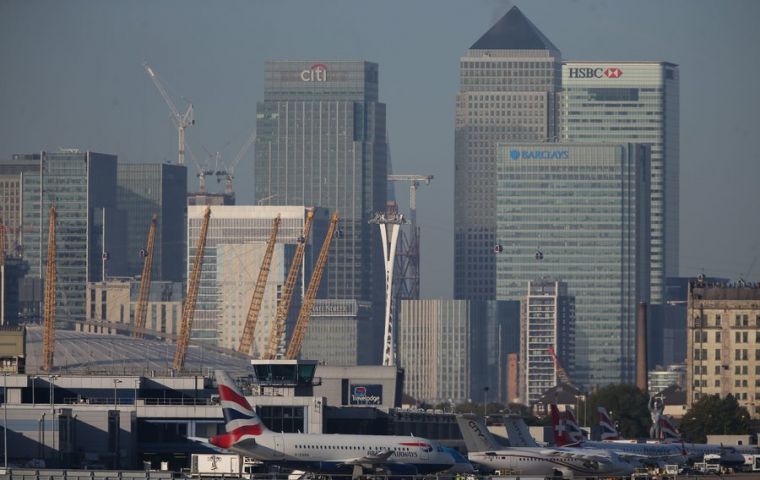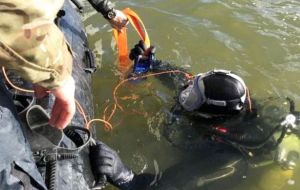 An operation to remove a 500kg World War Two bomb that has forced the closure of London City Airport will continue through the night. The airport has been shut all day and all flights cancelled, affecting up to 16,000 passengers, officials said.
The bomb was found at George V Dock on Sunday during planned work at the east London airport. The Royal Navy said the bomb would be exploded underwater overnight and the airport should reopen on Tuesday.
Police have confirmed families who were evacuated from around the site can return to their homes after the device was moved to another location in the dock. However, a new cordon area around some roads south-east of the airport will come into effect from 21:00 GMT as the ordnance is transported further.
A tunnel used by some rail services from St Pancras International will also be closed around midnight. The airport was shut at 22:00 GMT on Sunday when the bomb was discovered lying in a bed of silt 15m underwater.
Lieutenant Commander Jonny Campbell, who is leading the bomb disposal diving unit, said the 1.5m-long device would be floated down the River Thames and "high-grade military explosives" would be attached to it. He said his team had "a long night ahead" before the bomb is finally destroyed underwater on Tuesday morning.
According to the airport's website, a total of 261 arrivals and departures had been scheduled for Monday.
"All flights today are cancelled but some airlines have moved their flights to other airports - CityJet to Southend and Alitalia to Stansted", the airport said. Passengers have been told not to travel to the airport as the terminal is closed and to contact the airline.
Among passengers affected were Tottenham Hotspur fans heading to Italy for a Champions League game against Juventus. The north London club advised any fans flying to Milan to "contact their airline as soon as possible", ahead of the match in Turin on Tuesday.
Airlines using London City Airport include British Airways, Flybe, CityJet, KLM and Lufthansa, with flights to domestic and European city destinations. Docklands Light Railway services between the airport and Woolwich Arsenal have also been suspended.
Between September 1940 and May 1941, the Germans dropped about 24.000 tones of explosives on London. but 10% of all bombs that dropped did not detonate, according to historians. Last year, more than 4.5 million passengers used London City Airport. A 400 GBP million expansion was was given the go-ahead by ministers in July 2016, which includes extending the terminal.