Falkland Islands gears up for Illex Season 2018
Wednesday, February 14th 2018 - 19:04 UTC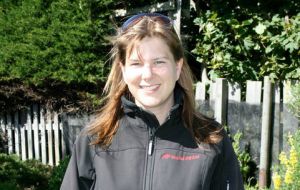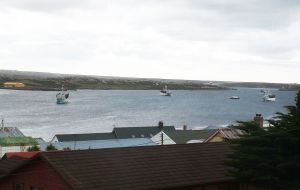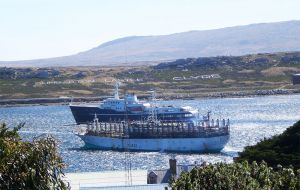 The Falkland Islands Government are currently going through the annual process of licensing fishing vessels for the Illex squid fishery in their Conservation Zone. Illex are a migratory species of squid, caught in significant quantities in the South-West Atlantic annually. The product is mainly shipped to the Far East where it is consumed.
Annual licensing of this fishery currently accounts for roughly 20% of the Falkland Islands Governments annual income, at about £11m. Over the past three decades it has been as high as 50% of income. However, the income is uncertain each year as the species does not remain in one place – it migrates according to sea temperature (and other marine factors). These factors are very difficult to accurately forecast. Some years the squid does not reach the Falkland Islands conservation zone in large quantities. When this occurs, according to a pre-determined formula, the Falkland Islands Government may refund license fees to the fishing companies involved. This sharing of risk between the public and private sectors is seen as tool to encourage licensing annually and has worked effectively for a number of years.
The Director of Fisheries in the Falkland Islands, Mr John Barton, confirmed to MercoPress that they will be looking to license 105 vessels to the fishery, which is at the same level as recent years. He also confirmed that they believe catches within Argentine waters have been reasonable thus far this season, but stated that catches on the High Seas have been slow to begin with. There are positive signs in this respect however with catches appearing to slowly pick up, which is delaying some vessels coming into the Islands capital Stanley to collect their licenses. He also confirmed earlier reports of more than 400 vessels fishing for the squid in the region. This inevitably raises concerns about the potential for overfishing in the unlicensed High Sea areas and the potential impact this may have on the squid moving into the Falklands Conservation Zone.
Falkland Islands fishing company representative Mrs Sarah Clement, of Pioneer Seafoods Ltd, has emphasised that local operators are first and foremost "hoping for an incident free, safe season for all fishing crew". She also said that they hope to see "a reasonable catch, which will enable us to containerise here in the islands, therefore maximising the economic benefit to the Islands".
Mrs Clement refers to two long-standing issues being addressed in the Islands. The first is one of welfare for fishermen onboard these vessels, none of which are flagged in the Falkland Islands. Issues have arisen in recent years where crew members have deliberately decided to leave a vessel when in Falkland Islands waters. This has sadly resulted in a number of deaths. There has been considerable work done with licensed vessels and their flag-states to look to address this problem and improve welfare. It is hoped that this work is now paying dividends, with their being no incidents last year.
The second issue of interest to the Islands is that of wider economic activity and benefit from the fishery. With the current annual licensing cycle, only a small number of licensed companies look to do much onshore in the Falkland Islands. The focus is on getting them to tranship into containers in Stanley and ship their product to market from there. Falkland Islands-based companies are increasing their partnerships with Illex-catching vessels to look to maximise the level of such transhipments and other activity.