Berlusconi and conservative block ahead in Italy opinion polls for March 4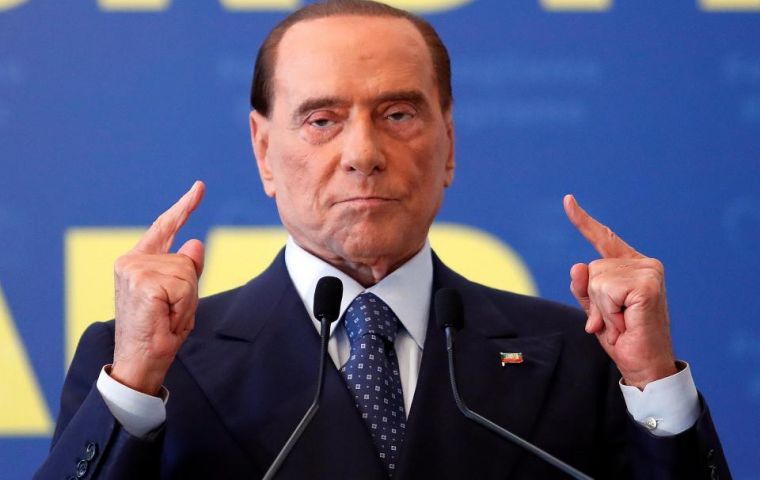 Italy's election race includes a dark horse. Opinion polls suggest a national vote on March 4 will produce either a conservative government or a broad coalition that will not threaten the status quo. But new electoral rules make predictions harder than usual. A post-election alliance of anti-EU parties is improbable - but not impossible.
So far Silvio Berlusconi's centre-right bloc is firmly in the lead. The alliance of the former premier's Forza Italia, the anti-immigration Northern League and the far-right Brothers of Italy currently commands around 36% of intended votes. Its strong presence in Italy's populous north should allow it to grab as many as 65% of the seats assigned by majority voting, simulations by pollster Ixe show. This would give it just under half the seats in each chamber - a strong showing but not enough for control.
The radical 5-Star Movement appears to have no chance of forming a government despite polling at 28%. Former Prime Minister Matteo Renzi's centre-left Democratic Party is languishing in third position.
If Berlusconi and his partners fail to secure a parliamentary majority, new scenarios open up. Though rival factions have vowed not to join forces after the vote, a desire to avoid a fresh election could encourage some unholy alliances. First, left and right might attempt to form a coalition, potentially led by a pro-EU politician like Prime Minister Paolo Gentiloni or European Parliament President Antonio Tajani. In that case, Italy would continue on the path of reform and working to shrink its debt.
There could be a twist: Berlusconi's rightist coalition partners might break away, leaving a grand coalition short of a majority. In this scenario, a pact with 5-Star would not be out of the question. The parties share an animosity towards the EU's fiscal constraints, as well as a desire to curb immigration. On current projections, such a dark-horse coalition would fall around 20 seats short of a majority in each chamber. A eurosceptic alliance in Italy is not quite as distant as remarkably calm markets suggest.
Italians will vote in a general election on March 4.
A centre-right alliance between Silvio Berlusconi's Forza Italia, the anti-immigration Northern League and the far-right Brothers of Italy is leading the polls with a combined 35.9% of the vote, but would fall short of an absolute majority in both chambers of parliament, a poll published by the Ixe institute on Feb. 11 showed.
The anti-establishment 5-Star Movement is the single most popular party, commanding 28.3% of intended votes.
Support for the ruling centre-left Democratic Party (PD) of former premier Matteo Renzi has dwindled to 22.1%. The party has been weakened by infighting and by the creation of a left-wing breakaway faction called Liberi e Uguali (Free and Equal).
Accurately predicting the outcome of the Italian elections is complicated by an untested electoral law, passed in late 2017. Nearly two-thirds of the seats will be allocated on a proportional basis, while 36% will be allocated using a "first past the post" voting system.