Madrid warned "Playa Pesmar Uno" five times it was sailing into Argentine waters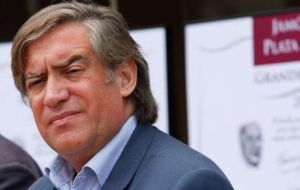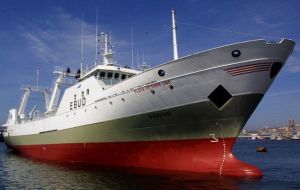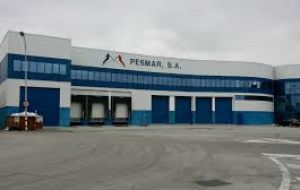 The Spanish Fishing Monitoring Center, CSP, located in Madrid has revealed it warned the trawler "Playa Pesmar Uno" five times that is was sailing into Argentine waters before it was finally arrested by the Argentine authorities, according to Alberto Lopez Asenjo, Spain's Fisheries Secretary, in an interview with the Vigo daily Atlantico.
The trawler belonging to Pesquerias Marinenses was operating in the sensitive 200 miles zone, where international waters become Argentina's EEZ (or Falklands' EEZ), and on Sunday 3 February afternoon it was detected by the Argentine Coast Guard, 400 meters inside sovereign waters, seized and escorted to Comodoro Rivadavia where it has remained since.
The data collected by the famous blue box, which is sealed and constantly transmits the position of a fishing vessel, leaves no doubt that the "Playa Pesmar Uno" was in Argentine waters, and therefore the Fisheries Secretary has opened a report on the incident which could lead to a fine anywhere between 5.000 and 60.000 Euros, explained Lopez Asenjo who travelled to Vigo to meet with the head of the Seas Technological Center.
"We are most respectful of the process, and the vessel owner has the chance of making his discharge", said Lopez Asenjo who added that "we are convinced that the position we were warning, repeatedly, was correct", in reference to the blue box which is inviolable and any attempt to alter it immediately triggers an alarm at the CSP.
The Spanish fine will add to the one imposed by Argentina, ranging between the equivalent of 196.000 and 393.000 Euros, and which apparently the owners of the vessel after admitting their mistake, are prepared to pay. This should happen in the next 48 hours when the "Playa Pesmar Uno" should be liberated.
Finally Lopez Asenjo underlined that vessel owners and crew members must refer to the positions given by the blue box, and not other systems that the vessel might be carrying. And the Vigo Cooperative of Vessel Owners should get involved in the "Plata Pesmar Uno" incident.