Porn star "Stormy" was paid US$ 130.000 for lust and silence with Trump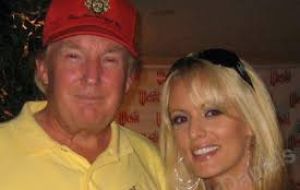 A private lawyer for President Donald Trump says he paid US$130,000 of his own money to adult film star Stormy Daniels who once claimed she had an affair with Trump more than a decade ago. The payment to Daniels, whose real name is Stephanie Clifford, was made during the 2016 presidential election campaign but the lawyer, Michael Cohen, said he was working alone and that it was not a campaign expense.
"Neither the Trump Organization nor the Trump campaign was a party to the transaction with Ms. Clifford, and neither reimbursed me for the payment, either directly or indirectly," Cohen said in a statement issued on Tuesday night.
Daniels was quoted as saying in a 2011 interview with In Touch Weekly that she had an affair with Trump after they met at a Lake Tahoe golf tournament in 2006. Trump has denied having an affair with Daniels.
The Wall Street Journal first reported in January that Trump lawyer Michael Cohen had paid US$ 130,000 to Daniels in 2016, the year Trump won the presidential election.
In his most detailed account yet of what happened, Cohen said in his statement that the payment was a "private transaction". He did not explain why he made the payment or say whether Trump was aware of it.
The White House referred questions about the payment to Cohen. Cohen's statement was in response to a complaint filed at the Federal Election Commission by the Common Cause watchdog group.
Common Cause argued in its complaint that the payment amounts to a campaign contribution well in excess of the US$ 2,700 limit to the amount any individual can give, and it has asked the FEC to enforce campaign finance laws.
"The complaint alleges that I somehow violated campaign finance laws by facilitating an excess, in-kind contribution. The allegations in the complaint are factually unsupported and without legal merit, and my counsel has submitted a response to the FEC," Cohen said.
"Just because something isn't true doesn't mean that it can't cause you harm or damage. I will always protect Mr. Trump," Cohen said, adding that he would not comment further.
Common Cause said on Wednesday that the timing and circumstances of the payment "make it appear that the hush money was paid to Daniels in an effort to influence the election." It called on the FEC to conduct a full investigation.
The FEC confirmed it received Common Cause's complaint and declined to comment on the case.
Daniels' manager, Gina Rodriguez, said that by issuing the statement, Cohen was in violation of a non-disclosure agreement with Daniels about the matter and that Daniels believes she can now talk about it publicly.
"Yes, Stormy is going to talk," she said via direct message on Twitter. She did not immediately respond to a question about when and where Daniels would be speaking publicly.