Theresa May flies to Berlin to meet Merkel, ahead of crucial speech on Saturday
Friday, February 16th 2018 - 10:07 UTC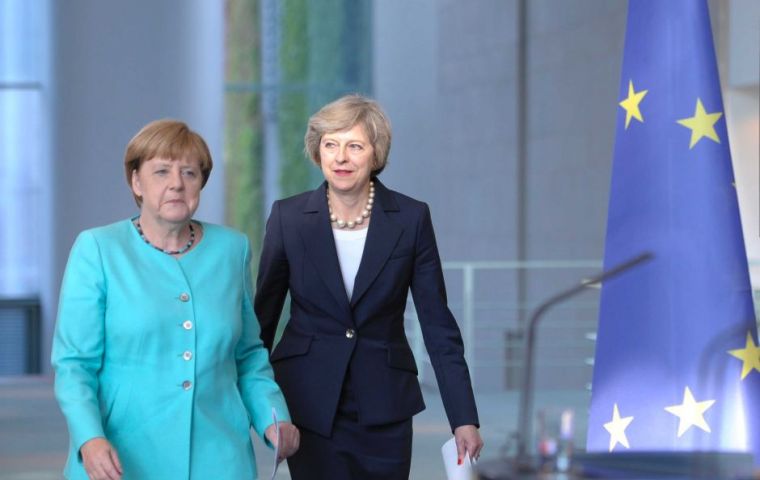 Theresa May is due to hold talks with German Chancellor Angela Merkel as she seeks to make progress on negotiating Brexit. The PM will travel on Friday to Berlin for the meeting at the Chancellery. It comes a day ahead of a speech on Saturday in which she is expected to set out the "security partnership" she wants to maintain with the EU.
The UK is under pressure to reveal more detail about the final relationship it wants with the EU. Mrs May and her ministers are setting out what has been dubbed "the road to Brexit" in a series of speeches.
On Wednesday, Foreign Secretary Boris Johnson attempted to reach out to Remain supporters, urging people to unite behind his vision of a "liberal Brexit".
The devolution of powers, workers' rights and trade are also expected to be covered by other ministers.
Mrs May's trip to Berlin comes as the UK and the EU attempt to agree details of the temporary "transition" period which will come immediately after Brexit day and is intended to smooth the path to the permanent post-Brexit relationship between the UK and the EU.
Speaking after the last round of talks, EU chief negotiator Michel Barnier said "substantial" disagreements remained and he had "some problems understanding the UK's position".
The German chancelor has been engaged in her own domestic negotiations in recent months, with a coalition deal finally agreed last week after her party suffered heavy losses in September's election.