Merkel "curious" about UK lack of clarity with Brexit; PM May speech in Munich
Saturday, February 17th 2018 - 09:22 UTC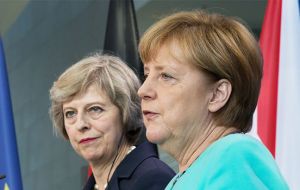 Angela Merkel has said that she is not "frustrated" by Britain's lack of clarity in Brexit, but is still "curious" about what the UK government actually wants to achieve in negotiations.
The German chancellor was asked at a press conference in Germany on Friday whether she was annoyed by the UK government's failure to spell out clearly what it wants its future relationship with the European to look like.
Britain and the EU have formally been involved in Brexit negotiations for almost a year, but the UK has yet to nail down the specifics of how it hopes its separation from the bloc will work.
"I'm not frustrated at all, I'm just curious how Britain envisages this future partnership," Merkel said on Friday afternoon. She added: "We very much look forward to Britain again setting out its ideas.
"We would like to initiate those negotiations because we are under a certain amount of time pressure but we also want be very diligent and very careful in working on this which means we will have frequent exchanges of views."
She went on to say: "We sometimes don't know how our opposite number sees something. But frustration doesn't describe it appropriately."
Merkel said she wanted Britain to be as close as possible to European markets after it has left the bloc. But she said the German people still "deplore" the decision to leave in the first place.
Prime Minister Theresa May told journalists that the UK government would set out further details on its Brexit negotiating position in the "coming weeks" but suggested the EU side also needed to do more for talks to progress, saying talks are not a "one-way street."
Negotiations are about "people sitting down and talking about the issues," the prime minister said.
May and Merkel held a joint press conference in Germany ahead of the Munich Security Conference which takes place this weekend. May is set to make a speech on how she would like the UK-EU security relationship to work after Brexit.