Mexico presidential race down to three names: Lopez Obrador, Anaya and Meade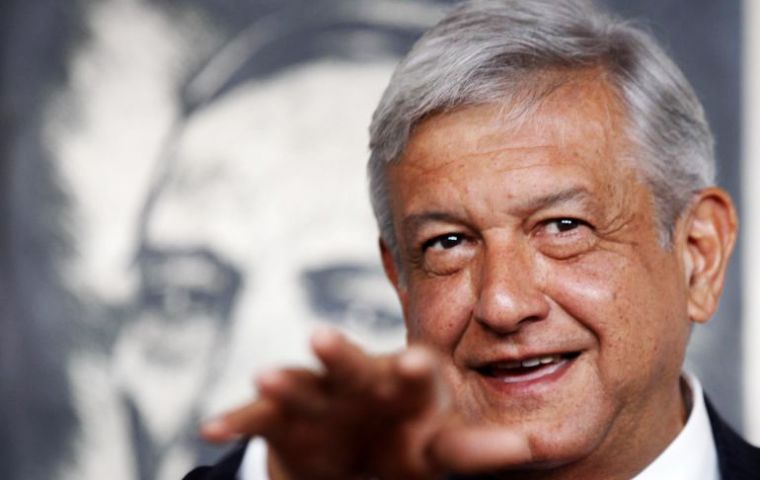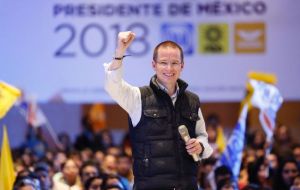 The campaign for Mexico's Jul 1 presidential election began in earnest on Sunday (Feb 18) as the country's top parties officially nominated their candidates, with all three front-runners trying to sell a message of change.
It is still a wide-open race to succeed President Enrique Peña Nieto, who is deeply unpopular heading into the final stretch of his six-year term in a Mexico beset by endless corruption scandals and record levels of violent crime.
The candidate to beat is Andres Manuel Lopez Obrador, or AMLO, a fiery leftist who has tried to present a mellower image this time around, and who has taken a growing lead in the polls.
In second place is Ricardo Anaya of the conservative National Action Party (PAN), a youthful ex-lawmaker whose bid to campaign as a fresh face has been hurt by allegations of corruption and strong-arming his way to his party's nomination.
Rounding out the top three is respected former finance minister Jose Antonio Meade, standing for the ruling Institutional Revolutionary Party (PRI) - a long-dominant force in Mexican politics whose popularity is now so low it tapped a non-party member to be its presidential candidate for the first time in its history.
Lopez Obrador, a two-time presidential runner-up whose critics hate him as fervently as his supporters love him, promised sweeping change for Mexico as he accepted his Morena party's nomination.
He vowed to overhaul public health and education, end the privatization of state resources and improve life for the poor.
But - sensitive to critics' accusations of an authoritarian style - he vowed that "nothing will be imposed from above."
"I'm aware of my historic responsibility. I want to be remembered as a good president," he told cheering supporters in Mexico City, going for a presidential look in a dark suit and red tie. He vowed to be relentless fighting the graft festering in the Mexican political system.
"I'm stubborn. It's a well-known fact," he said. "With that same conviction, I will act as president ... stubbornly, obstinately, persistently, bordering on craziness, to wipe out corruption."
Anaya, 38, and Meade, 48, are fighting tooth and nail for the anti-AMLO vote, each hoping it will propel them to victory.
Both have struck sometimes awkward alliances with smaller parties.
Recent polls give Lopez Obrador just over 30% of the vote, with Anaya in the 20s and Meade in the teens - enough for Lopez Obrador to win in Mexico's first-past-the-post system.
He's the clear choice for change, a former Mexico City mayor famous for railing against the country's "mafia of power." Encouraged by his strong numbers, Lopez Obrador, 64, has been trying to cultivate an aura of inevitability around his campaign.
Anaya will run in a landmark alliance with the leftist Party of the Democratic Revolution (PRD).
"I'm not running for president of Mexico to keep on doing the same thing ... I want to be president so I can make sure the dramatic change that our country needs is achieved," Anaya said after accepting his party's nod.
"The big question in this kind of election is what kind of change we want, change looking toward the future or trapped in the past," he stressed.
Meade tried to sound upbeat as he accepted the PRI's nomination at its national convention - though two recent polls have him falling farther behind.
"We can win!" said the former finance minister, who is highly respected in business circles but is struggling under the baggage of the PRI - which has been hit by a string of corruption scandals that have landed seven of its ex-governors in jail.
"I'm doing it for Mexico and asking all of you to do it for Mexico as well," he said.
Officially, the campaign does not open until March 30, but months of "pre-campaigning" have already laid bare Mexico's divisions.
"This election is about those people who are desperate for change in Mexico... and are willing to try anything different, and those people who are genuinely worried about what change will bring," said Duncan Wood, director of the Wilson Center's Mexico Institute in Washington.
The next president will inherit a lackluster economy, a political system rotting with corruption and a messy war on Mexico's powerful drug cartels that has left a trail of dead and missing in its wake.
Not to mention there's also difficult ties with the administration of US President Donald Trump, whose attacks on Mexico have put the future of the country's most crucial trade relationship in doubt.